This is an archived article and the information in the article may be outdated. Please look at the time stamp on the story to see when it was last updated.
COLUMBIA, Mo. —  The president of the University of Missouri System announced on Monday that he is resigning amid student criticism of his handling of racial issues and other issues that have led to walkouts and protests.
President Tim Wolfe said Monday that his resignation is effective immediately. The announcement came at a special meeting of the university system's governing body, the Board of Curators.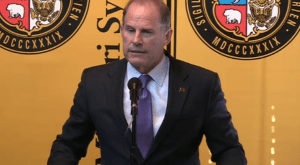 "The motivation in making this decision comes from love," Wolfe said. "I love MU, Columbia where I grew up and the state of Missouri. I've thought and prayed about his decision and it's the right thing to do."
Black student groups have been complaining for months about racial slurs and other slights on the system's overwhelmingly white flagship campus in Columbia.
"The frustration and anger that I see is clear, real and I don't doubt it for a second," Wolfe said.
In addition to the incidents of racism on campus, The campus newspaper, The Maneater, reports there have been other issues that have frustrated some in the student body, including the university's decision to stop paying graduate student health care, as well as the discontinuation of abortion services in Colubmia known as 'refer and follow' privileges.
The efforts of demonstrators, led in part by graduate student Jonathan Butler, got a boost over the weekend when 30 black football players announced they wouldn't participate in team activities until Mizzou graduate student Jonathan Butler ended his hunger strike, and that would only come, Butler said, when he either died or when Wolfe resigned. The football team decided it would not practice Sunday, and according to Coach Pinkel, would not play until the situation was resolved with Wolfe's resignation.
The Mizzou Family stands as one. We are united. We are behind our players. #ConcernedStudent1950 GP pic.twitter.com/fMHbPPTTKl

— Coach Gary Pinkel (@GaryPinkel) November 8, 2015
On Saturday, Nov. 14, the Mizzou Tigers are to play Brigham Young University from Provo, Utah, at Arrowhead Stadium. If Mizzou did not show up to play, the University of Missouri would owe BYU one million dollars, according to the contract between the two schools.
"This is not the way change should come about," Wolfe said in his resignation speech.  "Change comes from listening, learning, caring and conversation, and we have respect each other enough to stop yelling at each other and start listening and quite intimidating each other through either our role or whatever means we choose.  Unfortunately, this has not happened and that is why I stand here today, and I take full responsibility for this frustration. And I take full responsibility for the inaction that occurred."
In his speech Wolfe encouraged students and staff to use his resignation as something to help them start talking again and make strides towards healing and making the necessary changes.
"My decision to resign comes out of love, not hate," Wolfe said.
Shortly after Wolfe's resignation,  Butler tweeted that he ended his hunger strike, which started on Nov. 2. Butler also added that he believes Wolfe's resignation is just the first step and there is more change to come.
https://twitter.com/_JonathanButler/status/663757088749846528
When student protesters heard about Wolfe's resignation, they cheered their victory and the changes they hope are coming.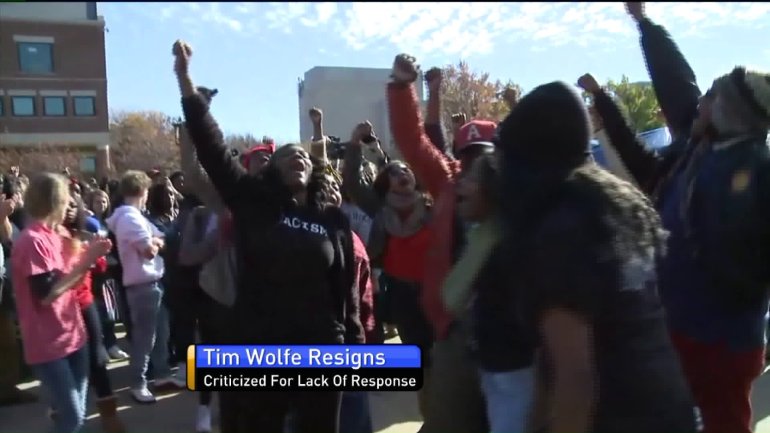 Jonathan Butler family came out to see him after the announcement. FOX 4's Molly Balkenbush spoke to Butler's father about his son's leadership during this movement for change.
"The entire board, taking this first step for future steps for improvement at the university. We're tremendously proud of our son and we believe that his actions will make this place a better place," said Eric Butler, Jonathan Butler's father.
Missouri Governor Jay Nixon also issued a statement about Wolfe's resignation:
Tim Wolfe's resignation was a necessary step toward healing and reconciliation on the University of Missouri campus, and I appreciate his decision to do so. There is more work to do, and now the University of Missouri must move forward – united by a commitment to excellence, and respect and tolerance for all. The University of Missouri is an outstanding institution that will continue to play a vital role in our efforts to provide a world-class education to every Missouri student.
The Missouri Legislative Black Caucus also issued a statement regarding Wolfe's resignation:
The Missouri Legislative Black Caucus stands in solidarity with University of Missouri students in demanding long overdue action to address racial bias on campus, and we are disheartened that administrators were slow in treating this issue with the seriousness it deserves. The resignation of University of Missouri System President Tim Wolfe demonstrates that leaders who ignore injustice or cling to the status quo do so at their own peril.

We can no longer allow institutionalized racism to endure anywhere in Missouri. It is the solemn duty of everyone in a position of authority to identify and eradicate racial injustice.
Office of Missouri Secretary of State Jason Kander also issued a statement:
University of Missouri students clearly lost faith in the administration's ability to make meaningful change in race relations on campus, and their voices were obviously heard loud and clear. I hope the Concerned Student 1950 movement is a starting point for an important dialog that is long overdue at Mizzou and across the state, and that student concerns are no longer ignored by the university. While it will take time to replace President Wolfe, the university cannot wait to take action to ensure black students have the same opportunities to succeed as white students. The new leadership of the university should immediately begin having conversations with students, faculty and staff to reach an understanding on the concrete steps that need to be taken in the next couple of months to rectify this troubling situation now – not sometime in the future.