This is an archived article and the information in the article may be outdated. Please look at the time stamp on the story to see when it was last updated.
OLATHE, Kan. -- Four days after the Feb. 22, 2017, shooting at Austins Bar & Grill, Alok Madasani hobbled to a podium to thank a man identified only as "Brad" for saving his life.
On Thursday, one year after the Olathe shooting that killed one and injured two others, Brad Risius described his actions for the first time.
"It was chaos pretty quick, people running," he said. "There was a KU game going. There was families and kids. That's what I remember, is just panic on everybody's faces."
Risius started to run but recognized the victims -- Srinivas Kuchibhotla and Madasani, Garmin engineers originally from India.
"(Madasani) goes, 'I'm hit. I'm hit,'" Risius said. "He didn't know where. He was more concerned about Srinivas. He didn't care too much, but I could tell he was pretty bad off."
At the same time, another customer, Ian Grillot, ran toward the gunman, later identified as Adam Purinton. Risius had no first aid training, but he took off his shirt and made a tourniquet.
"There was a lot of blood soaking through his jeans, so I knew it was bad," he said. "So the first thing that came to mind was stop the bleeding and hope paramedics got there quick."
Madasani would later describe seeing the bloody shirt in the ambulance and asking paramedics whose it was. They told him it belonged to the man who saved his life.
"I think I got lucky where I put the tourniquet," Risius said. "Quite frankly, I just was patting from the outside of the jeans. I took a shot at it."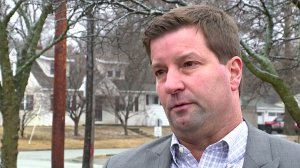 Risius said he planned to be among those who marked the one-year anniversary Thursday at Austin's. Grillot was there, too, along with two glasses at an empty table to mark the spot where the two Indian men were shot.
In the year since the tragedy, Risius said he's become better friends with Madasani and watched as Kuchibhotla's widow and Grillot helped spread messages of unity and overcoming hate.
His heart just breaks knowing there was nothing he could do to help Kuchibhotla.
"Anyone who would have met Srinivas knows what a great guy he was," Risius said. "And for something like this to happen to that family, it's devastating. It's the wrong guy. Trust me, wrong guy. Never should have happened."
Kuchibhotla's widow, Sunayana Dumala, traveled to India for a ceremony marking the anniversary of her husband's death. She's announced a Peace Memorial Walk from Garmin to Austin's at 5:30 p.m. on March 9.
The shooting has been declared a federal hate crime, carrying a possible death sentence.