This is an archived article and the information in the article may be outdated. Please look at the time stamp on the story to see when it was last updated.
KANSAS CITY, Mo. — Hundreds of jobs are coming to Kansas City with the announcement Thursday that the USDA will relocate two of its offices to the metro.
U.S. Secretary of Agriculture Sonny Perdue said more than 150 locations showed interest, but it was Kansas City's quality of life and work with other federal agencies that made it the perfect choice.
"You had some tough competition there, but the quality of life and all the attributes of Kansas City came to bare, both of your states and a region as a whole came and presented a united front being a home to these two agencies for USDA," Perdue said. "At the end, I think we made the right decision, and we're looking forward to having these folks join you good folks in Kansas City."
Perdue said the Economic Research Service and the National Institute of Food and Agriculture are expected to move to the metro by the end of September.
Perdue said somewhere between 500-600 jobs will be included in the move.
There is no word yet on where in the metro the agencies will locate. Bids for location options are being accepted until July 1.
The move comes out of a USDA Cost Benefit Analysis, which they say will save the department nearly $300 million over a 15-year lease term. The majority of the money would come from employment costs and rent for $20 million a year.
Perdue said that money will allow more funding and research toward rural prosperity and agricultural competitiveness.
The secretary said President Donald Trump supports the decision and puts agriculture as a top priority.
"He just wants us to do a good job for our farmers," Perdue said. "We're convinced this is the best way we can serve our constituents going forward. We think it will help us to attract world class labor PHD economists to the regions to help us make the best decisions, data-driven facts based decisions going forward."
John Stephens, the president & CEO of Port KC, said having the city so close to major agricultural areas and schools makes it an obvious choice.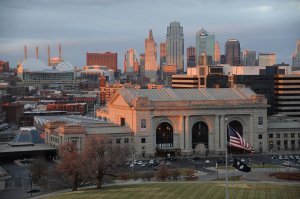 "That's the great thing about Kansas City, we are this amazing, vibrant, metro of 2 million," he said. "But you drive 45 minutes and you're in the middle of the bread basket. And these farmers will have access, and these researchers will have access to the farmers, and that's exciting and a little bit different than where they're coming from."
However, the Union of Concerned Scientists in Washington D.C. believes this will take money away from research and could isolate the ERS and NIFA from decision makers.
Mike Lavender, the union's senior manager of government affairs, is opposed to the decision.
"These entities need to benefit every farmer, every citizen in the country, and by locating it in a specific area that's outside of Washington D.C., there's a fear that that won't continue, and I think that fear is legitimate," Lavender said.
"Over a period of 15 years we expect to save the American taxpayer about $300 million that we hope Congress will let us reinvest back into the programs that support research," Perdue said. "We need more ag research, and that's exactly what we hope to get by saving money with this relocation."
Although some in the capitol disapprove of the decision, locally Stephens said this will be a huge boost to the Kansas City economy and be a win-win for the government and the metro.
"We truly believe that the USDA made the right decision by choosing the Kansas City metro area for these really, very important high quality jobs," Stephens said. "These are research jobs, these are incredibly important for the region, and we're ready for it."
Some USDA employees showed their disapproval of the move in front of the secretary himself on Thursday. They turned their backs on Perdue during an "all-hands" meeting in Washington D.C.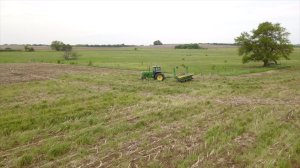 Perdue said 90% of USDA employees have jobs outside of the capitol, and current employees will have the option to stay in their positions and make the move to KC.
"Our goal is not to dismiss anyone that's currently working for these two agencies," Perdue said. "We're offering relocation to all those who would want to go. We understand some circumstances won't be able to move. So there will be some local filling, but we don't have those numbers. We're giving priority to the employees that are here with those agencies now, and then we'll make job announcements later on as we determine who would like to relocate, and who chooses not to."
"I understand from the perspective of folks in the Kansas City region, seeing this and seeing how it can be a good thing. But there has been so much opposition to this on a bipartisan basis coming from all parts of the country before this announcement was made today. So I think there's a real need to take a step back and say, 'Is this really in the best interest?'" Lavender said.
Both Missouri and Kansas politicians applauded the decision.
U.S. Senators Pat Roberts (R-Kan.), Roy Blunt (R-Mo.), Jerry Moran (R-Kan.) and Josh Hawley (R-Mo.) along with U.S. Rep. Emanuel Cleaver III spoke out about the move.
"I am excited to hear USDA selected Kansas City as the new location for the Economic Research Service (ERS) and National Institute of Food and Agriculture (NIFA). Agricultural research is a critical function of USDA, and I am committed to ensuring we continue to support and strengthen the research mission that our U.S. producers rely on. Kansas City is an obvious choice, as many other USDA agencies in the area partner closely with stakeholders," Roberts said. "The vital research that will occur at the National Bio and Agro-defense Facility (NBAF) and already occurs throughout the KC Animal Health Corridor makes Kansas City a natural fit. I am pleased that USDA recognizes the rich resources the heartland provides."
"Today's announcement is great news for the Kansas City region and our state," Blunt said. "These agencies will bring hundreds of good-paying jobs to the area and enhance Missouri's role as a national leader in ag research. Secretary Perdue made the right choice in selecting Kansas City, which is a great place to live and work. The challenges and opportunities have never been greater than they will be in the next 25 years. These research agencies do great work, and will be at the cutting edge of agriculture and well located for assistance and examples as they do their job."
"After months of advocating to Secretary Perdue that NIFA and ERS ought to be relocated to the Kansas City area, I'm thrilled that USDA has selected Kansas City to house these critical research agencies," Moran said. "The animal health corridor, stretching from Manhattan, Kansas to Columbia, Missouri, is the largest concentration of animal health companies in the world, and Kansas is also the home of the National Bio and Agro-defense Facility – and today's decision further bolsters Kansas City's status as a national leader in the ag industry. It is always positive when our government can operate outside of Washington and closer to the people it serves, and I am certain that the decision to relocate NIFA and ERS to Kansas City is a good one. I look forward to helping welcome these USDA agencies and employees to Kansas City."
"This is outstanding news for the Kansas City region. We're home to some of the hardest working farmers in the country, so this is a fantastic decision by the USDA," Hawley said. "As the new home of the Economic Research Service and National Institute of Food and Agriculture, Missouri and Kansas will continue to lead in the research and development of American agricultural policy for the 21st century. We are grateful for the job opportunities and renewed partnership this move creates for our state."
"Excited that the USDA has selected Kansas City as the location for the new ERS and NIFA headquarters!" Cleaver tweeted. "This is an exciting opportunity for the entire region. The Missouri and Kansas delegation will continue working to bring these nearly 600 jobs to KC!"