This is an archived article and the information in the article may be outdated. Please look at the time stamp on the story to see when it was last updated.
BELTON, Mo. —  Vandals tried to take down what has become a Halloween tradition in a metro neighborhood. Once a popular theme park attraction, a blow up witch that towers high above a two-story house is now the main holiday attraction along Westover Road.
Although she is up and back in action, the witch's magic was no match for the ghoul or goblin that tried to take her down.
"From the top, you can see it was cut and just slit all the way down to here," Cheryl Mason pointed out.
Mason said the vandals left her family infuriated when they tried to destroy the inflatable witch.
"I was mad, my kids were mad, they know their dad loves it," she said.
If the witch looks familiar, it's because she used to belong to Worlds of Fun where she frightened families and children at the park before riding her broom to her new home in Belton where she has become a favorite among neighbors.
The first Friday of October, the Masons put up their witch as they have for the last 10 years. But this year, sometime during the bewitching hours of Saturday morning, the wicked one lost her air.
Instead of having a "boo-hoo fest," the Masons took action. Determined not to let the goblins who did this ruin their Halloween spooktacular, they filed a police report, and patched up their green faced beauty.
"It was expensive fixing her but we got her back up, not going to keep her down," Mason said.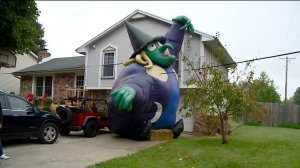 If anyone tries this trick again, they will get a not so pleasant treat.
"My husband took his birthday money and bought a camera and thought, 'I am going to catch them,'" said.
But, the evildoers are still out there. The Masons originally offered a $100 reward for information leading to the arrest of the spooks who did this, but two other families have sweetened the pot. If you know who did this, call the police and there could be $150 in it for you.