This is an archived article and the information in the article may be outdated. Please look at the time stamp on the story to see when it was last updated.
GRAIN VALLEY, Mo. — People in one quiet Jackson County neighborhood are angry. They say a rash of vandalism and crime is capped off by someone painting swastikas on a mailbox that features a Christian theme.
Neighbors along Old Pink Hill Road near Grain Valley said it adds to their outrage that it's Easter weekend.
Jeff Butler and his family have lived in the area for 17 years, and they're active at their nearby church. On Thursday, Butler's son found their Christian-themed mailbox, which features the cross of Christ, with racists symbols spray-painted on. Butler said his son discovered the vandalism during the early evening hours.
"To take the cross and put a swastika on it, especially on Easter weekend. That's just a kick in the gut," Butler told FOX4.
The big stone mailbox stands about 5 feet high, and it was expensive to build. Butler said the mailbox also shows wear, where someone tried to steal it during the night. Butler, who spent time serving in the U.S. Army, spent most of his Friday cleaning the paint off the stone surface.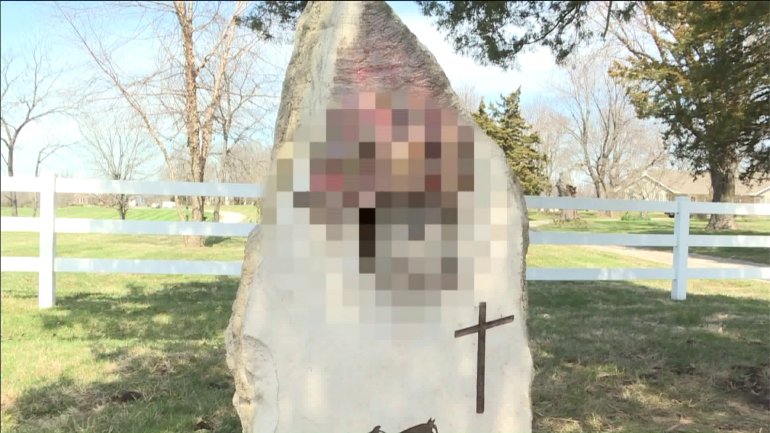 "It was just significant. You kind of get mad at first, and then you just ask yourself why. Why do people destroy other people's property?" Butler said.
The swastika is directly associated with the Nazi Party and long after the demise of Adolph Hitler, still carries strong ties to white supremacy. FOX4 chose to blur images of the symbol because its considered so offensive to many.
"It's a little upsetting that some people think this is OK," Mackenzie Butler, Jeff's daughter, said Friday.
"It's our house, and we like to keep it clean and make it look as presentable as possible," she said. "We have to come out and clean up other people's trash."
On Friday afternoon, two other neighbors told FOX4 their mailboxes had also been vandalized, and there's also been a rash of break-ins and illegal dumping.
After this story aired on Friday afternoon, another neighbor contacted the FOX4 newsroom saying her window had recently been broken out and her dog had been stolen.
"You just hope eventually, they'll mess up and get caught," Jeff Butler said.
If you can help these neighbors figure out who's causing all this trouble in this rural area, contact the Jackson County Sheriff's Department. FOX4's messages to that law enforcement agency were not returned on Friday.