This is an archived article and the information in the article may be outdated. Please look at the time stamp on the story to see when it was last updated.
Prepare to look back in time.
To the dawn of the Information Age, when phrases like "hacker," "cyberspace," and "information superhighway" emerged into the cultural vernacular, but were still just abstract references to a future we could not yet comprehend.
Gaze upon the personal website of Vicki Lawrence, star of the 1980's hit sitcom "Mama's Family." Web designers out there, brace yourselves.
Vicki's website is a true internet time capsule.
This relic has somehow checked all the boxes of a mid-90s website. It has it all: roughly cut-out photos floating in space with seemingly no regard for the grid, a mishmash of various typefaces in an assortment of colors, bands of color gradients, drop shadows, buttons that appear when you hover over them, and an unironic use of comic sans, all flanked by empty fields of mint green.
The only thing missing is a (way too loud) MIDI file of the Mama's family theme song that autoplays as you view the site.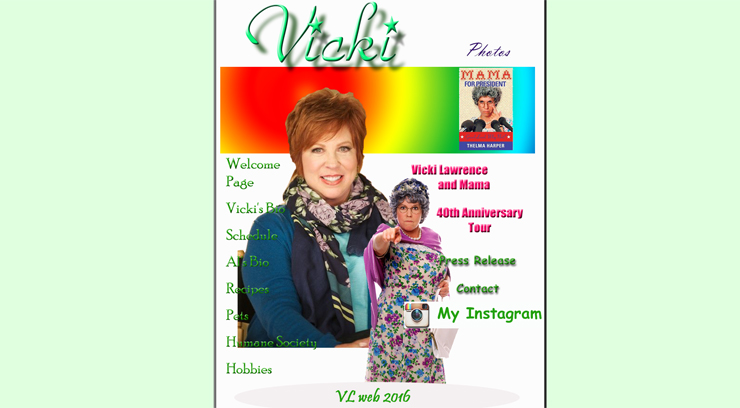 At first glance, you might think it was a long neglected website that has somehow managed to survive. Perhaps Vicki registered her domain to auto-renew every few years, and it quietly lingered on.
But then you notice a link to her Instagram account on the home page, and delving deeper you find an up-to-date schedule of her upcoming tour dates. This website is very much alive.
You can read Vicki's bio… that is, if you can manage to decipher the wall of text in a tiny script font. We must warn you to take intermittent breaks; your eyes may go crossed trying to get through it.
You can also check out Vicki's photos, which is not just a nostalgia trip for fans of Mickey Rooney, Dick Clark, and Dinah Shore; younger folks are instantly skipping down memory lane at the sight of the overwhelming background of repeating jpegs, a la Geocities circa 1995.
And it's not as though Vicki is somehow out of touch. She's still booking performances, staying in touch with her fans, and her Instagram is on point.
FOX 4 stumbled upon Vicki's website after she came to the studio Wednesday morning, where Mike McDonough — the mayor of Raytown, Mo. (where "Mama's Family" is set) — declared July 19 to be Mama's Family Day.
Let's be clear: this article is not intended to poke fun at Vicki or her website (and certainly no snarky local news hack like me could ever belittle her decades-long illustrious career as a comedian, singer, and actress for which she has won countless awards).
No, the point of this article is to share this internet artifact to a wider audience. This site is a rare gem, and so refreshingly genuine in a time when the world wide web has become overrun with cynicism, negativity, and narcissism. Her site also features recipes (of which Thelma "Mama" Harper would approve), as well as photos of her pets, her support for the Humane Society, and photos of her own personal hobbies.
Vicki, please, don't ever redesign this website. Let it continue on, withstanding the test of time, just like your career.