This is an archived article and the information in the article may be outdated. Please look at the time stamp on the story to see when it was last updated.
SEDALIA, Mo. -- Authorities announced Friday that a 35-year-old mother of four was the victim whose decomposing remains were found at two locations in a mobile home park outside Sedalia on Sunday, May 4.
A foul odor led residents of the Goodwill Chapel Trailer Park to the remains of Mandy M. Black, 35, from Marshall, Mo. B
Black's children are ages 9, 12, and 19-year-old twin boys.
She was identified through tattoos, and her family was notified on Thursday of her homicide.  The Pettis County Sheriff believes she was killed around the first of the year.
On Sunday, the landlord was cleaning out the trailer after the tenant was arrested for rape of a neighbor. She and her grandson detected the foul odor.
A maintenance man told FOX 4 that the metal bin where Black's remains were found was sitting in front of Trailer 19 for several months.
After authorities were called in, more parts were discovered in a nearby wooded area.
Investigators await final autopsy results to know exactly what caused Mandy Black's death.
They haven't arrested anyone for her homicide and have not revealed whether they have discovered a motive for murder.
Joseph Arbeiter, 65, lived in the mobile home where the remains were found.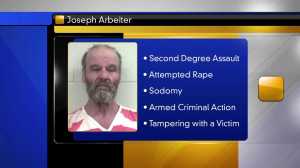 Arbeiter is on probation for leaving the scene of an accident and is currently in jail, charged with the attempted rape of a neighbor.
Sheriff deputies aren't yet naming Arbeiter as a suspect, but also aren't ruling out that possibility. They removed several tools, a mattress and carpeting from the trailer Monday as well as evidence from the second scene where remains were found, the woods  behind the trailer.
Arbeiter was charged in 1966 with the stabbing death of a woman but was never convicted after complications with the investigation.
Black's family members want her remembered as a kindhearted person and a loving mother.
Anyone with information on the case to call Pettis County Crime Stoppers at 660-827-TIPS or the Sheriff's Office at 660-827-0052.