This is an archived article and the information in the article may be outdated. Please look at the time stamp on the story to see when it was last updated.
LEAVENWORTH, Kan. — A former Veterans Affairs physician's assistant convicted of sexually abusing patients will spend more than 15 years behind bars. In court Friday, some of Mark Wisner's victims talked about their continued hurt and healing.
The details of the case against Mark Wisner are cringeworthy.
War veterans who fought for our country came home, turning to the VA for care, only to end up being abused by Wisner. In August, the former physician's assistant was found guilty of aggravated sodomy and sexual battery for performing repeated and unnecessary, aggressive genital exams.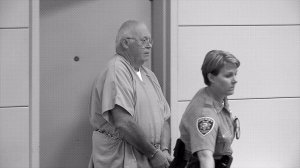 "Like all sex offenses, victims struggle to come forward," Leavenworth Assistant County Attorney said. "It doesn't matter if they're male or female or the circumstances. It's hard for them to come forward and talk about what happened. A lot of times, they're victimized over and over and over — and it's difficult. These men show you can persevere, and you can do it."
Two victims sent in written statements that were read during Wisner's sentencing Friday. One of them said he's now finding new outlets to serve and heal by volunteering with hurricane relief in Texas, Florida and Puerto Rico. In his letter, he said Wisner should've taken a plea deal when he had the chance to "save victims from years of heartache."
A second victim said his encounters with Wisner have inflicted lasting damages, including a divorce, custody battle, gambling addiction and foreclosure on his home.
A third man, who spoke in court, didn't want his face shown. He stood behind a podium and spoke directly to Mark Wisner, saying he is not a victim but a U.S. military veteran who was victimized.
"You still sit there with your eyes forward. Scared," he said. "Look at me. I stand here today smiling. Strong. You couldn't break me. You won't break me."
He said Wisner medicated him "more than most cancer patients" and told the court he even overdosed once. Despite severe post-traumatic stress disorder, also claims Wisner once bought him a gun.
"Yet I sit on this stand and tell the truth, and you don't have the audacity to speak on your behalf," he said.
Wisner's attorney didn't allow his client to talk because the ongoing legal challenges Wisner faces.
"But that does not mean that he does not express remorse," Wisner's attorney said.
The judge denied a motion for a new trial.
"There's really nothing much I can say that would acknowledge the feelings of disbelief, embarrassment and anger that the victims and this location, this country, has felt about the actions against these veterans," the judge said.
Instead, the judge handed down the maximum sentence of 15 years and 5 months. Wisner will also have to register as a sex offender. He could be eligible for parole in less than three years; however, Wisner still faces several lawsuits and potentially additional criminal charges.
Fox 4 has done many stories on the accusations against Mark Wisner and on the veterans he targeted.  Watch Fox 4 John Holt's special report with several of the men, who sat together and heard each other's stories.