This is an archived article and the information in the article may be outdated. Please look at the time stamp on the story to see when it was last updated.
MAHWAH, N.J.
— Inspired by a woman who posted a video of her Give It 100 weight loss journey, a mother and daughter challenged themselves to do the same.
Cheryl Shaw said after canceling her wedding she became depressed and didn't care about what she ate.
"My life started spiraling out of control," she said. "I put on all this weight. My kids got very worried about me."
Her kids also put on extra pounds due to Shaw's own eating habits.
"It's all because of me," she said. "I work 12 hour shifts, and I was bringing McDonalds home at 10:30 at night. And the kids were starting to do my habits."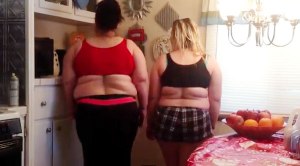 But then she saw Lakeisha Shurn's Give It 100 weight loss video and something clicked. She wanted to do the same. Knowing her 17-year-old daughter's health was also in jeopardy, she asked her to join her. She agreed.
Shaw and her daughter exercised every day, even after Shaw spent 12-hour shifts in the ER. They cut out sugar, wheat and flour to reduce food cravings. And even though they had some setbacks (a few cheat days) they got back on track.
"I don't have a double chin
anymore," said Tessa Nichole, daughter. She said with her weight loss came self-confidence. "I remember I wouldn't go out ever. I wouldn't hang out with my friends. School events like dances, I wouldn't want to go because I wouldn't have anything to wear. Even in class, in the beginning of the year, when I was at my biggest, I wouldn't answer questions or raise my hand for anything. I felt like everyone around me was judging me because of my weight. But now I answer questions and have no problem standing up in front of the class and presenting something."
Nichole's grades have also improved.
Shaw said she's proud of her daughter and grateful for the opportunity — and motivation — Give It 100 has given her.
"I'm very happy what me and my daughter are doing together," she said. "We're getting so close. It's been so wonderful doing this with her. It's definitely going to be a memory. GiveIt100 has given us that opportunity to be accountable. Every day we have to make our 10 second video. I love it."
The mother-daughter duo has lost a total of 74 pounds in 100 days. See their Give It 100 video below.