This is an archived article and the information in the article may be outdated. Please look at the time stamp on the story to see when it was last updated.
KANSAS CITY, Mo. -- Kids in a metro elementary school headed to the Big Apple and the Grand Canyon on Tuesday, and they never left their classroom.
Those places and others across the world are fantastic, but they're just not feasible as field trips for most schools and their students. But now, virtual reality can change all that.
Dozens of students made the trips of their dreams Tuesday at Indian Creek Elementary School thanks to the technology. Center School District is one of hundreds of districts across the country using virtual reality to bring the world to students.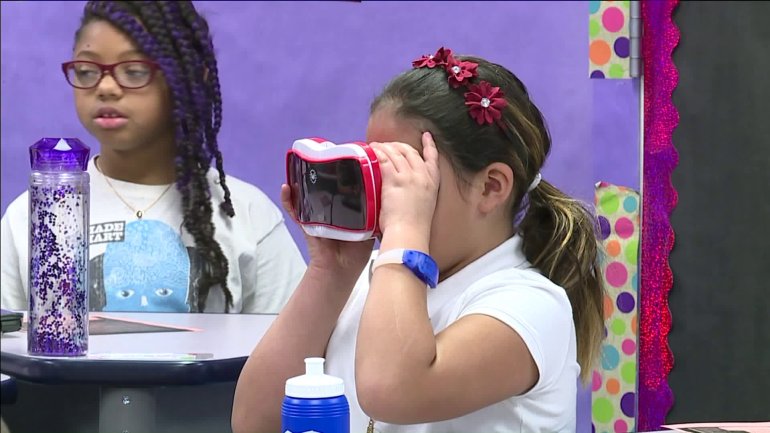 "When I first seen it, I was so surprised," third-grader Caleb Pouncil said. "Like when I looked down, I was like in the middle of the air. Nothing was holding me up. It was so scary, but it was fun at the same time."
"There are so many students who don't have the opportunity to see outside of Kansas City, and so it gives them a birds-eye view, actually putting themselves in a situation, in an area that is unfamiliar," third grade teacher Phyllis Cole said.
But virtual reality comes with a hefty price tag. Center School District said buying a new system could have cost $3,000.
"So I started finding a way to piece it together," Educational Technology Specialist Robyn Holsman said.
The district decided to repurpose old cell phones to save money. Each cell phone has the free Google Expeditions app downloaded. Then add in new viewfinders at $10 each, and students are able to explore anywhere in the world.
"I like how you can see different things around different parts of the world," third-grader Mamy Seydi said.
Teachers said virtual reality helps the kids relate in a way a textbook just can't.
"What I like about this is it's face to face," Cole said. "It's not a video they are watching in class because the kids can choose to look at what I want them to look at but also choose to look around."
Right now, the school said it has a limited number of viewfinders for students. Classrooms are taking turns using them so all the kids have the chance to explore.