This is an archived article and the information in the article may be outdated. Please look at the time stamp on the story to see when it was last updated.
KANSAS CITY, Kan. -- The final farewells for deputies Patrick Rohrer and Theresa King are set for Thursday morning at Children's Mercy Park. Meanwhile, many people are working behind the scenes to prepare for the joint service.
Rohrer and King were killed in the line of duty last Friday during an inmate transfer in downtown KCK.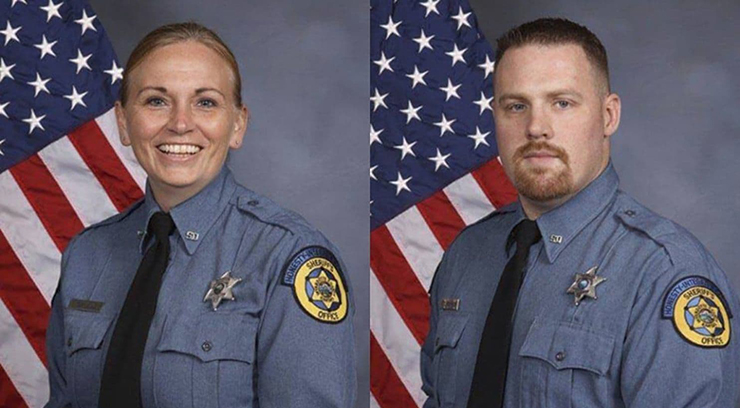 When an officer is down, the rest of the community stumbles. Helping them up is a team of 11 volunteer chaplains.
"I always say that is what we do best, that is what everyone can do best is just show up and be there," chaplain Ken Nettling said.
He calls his work "The Ministry of Presence," and it's something he's had to do all too often in the last two years as Wyandotte County has lost four of its heroes.
Nettling was at the Wyandotte County Courthouse Annex on Friday right after the shooting and then at KU Hospital as the families learned the grim news of King and Rohrer.
"When I talked to Sarah Rohrer, first I approached her and I said, 'Do you have a church that we can contact?' And she did and immediately I went and did that," Nettling said.
It's difficult to even imaging anything good coming out of a tragedy like the deputies' murders. But Nettling said he saw it at the prayer vigil Sunday night outside City Hall.
"And when I greeted the families, I said, 'Look around.'" Nettling said. "I said, 'All of these people are here for you, and that is a powerful, powerful witness.'"
Just being there, holding each other up, Nettling called it a testament of the human spirit.
"Just about the time you are ready to give up, something like this happens and you are like, 'Wow, everybody is just there,'" Nettling said. "And that is a tribute to the spirit of good and good overcoming evil."
Nettling said he met with King and Rohrer's families to plan the joint funeral, and the first thing he told them is that Thursday will be a celebration of life.
The dates on a tombstone are not important. What is important is the life represented by the dash in between.