This is an archived article and the information in the article may be outdated. Please look at the time stamp on the story to see when it was last updated.
WICHITA, Kan. — The search for a missing 5-year-old Wichita boy continues.
Monday marks the sixteenth day officials and search groups have been looking for Lucas Hernandez .
According to a report from KWCH, a group of mounted volunteers from Texas joined the search Saturday, but they have not found anything related to Lucas so far.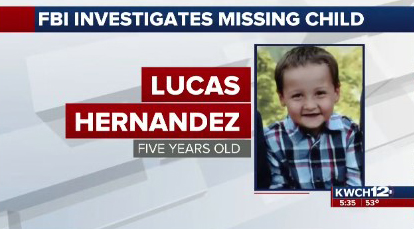 Police told KWCH they are still receiving tips about the little boy's disappearance. If you have information that could help police, you can call the 316-383-4661.
"Whether he's alive or not alive, he's alone and he shouldn't be alone. He needs to be found," a volunteer told KAKE.
Lucas' stepmom, 26-year-old Emily Glass, told police she last saw him Feb. 17 before she took a shower and fell asleep. Approximately three hours passed between that time and the time police were notified that he was missing.
She was arrested last week and charged with endangering a child for a case involving her one-year-old daughter. She remains jailed on $50,000 bond.
KAKE reports that a group from Missouri drove Wichita this weekend to also help in the search.
"We found some handcuffs at the base of a tree, which look kind of suspicious and then we found a blanket and some brush. That they're checking out now. We called police to have them check it out," Co-founder of Missing and Endangered NW Missouri Teresa Wilson told KAKE.
The Wichita Eagle previously reported that police aren't discouraging citizen searchers from looking for evidence in the parks but ask that people not disturb anything that might be evidence.