This is an archived article and the information in the article may be outdated. Please look at the time stamp on the story to see when it was last updated.
LAWRENCE, Kan. -- Crews were trying to quickly clean up the vandalism they found on Thursday at Lawrence High Stadium, at 19th and Louisiana.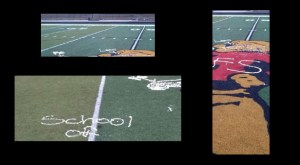 A statement released by the superintendent gets quickly to the point that the vandalism was offensive and in very poor taste. It includes the 'n-word' and a shaving cream drawing of a male body part.
Rick Doll, Lawrence Superintendent of Schools, issued the following statement:
Both Lawrence High and Lawrence Free State High Schools and the Lawrence school district are deeply offended by the graffiti written in shaving cream by vandals overnight at the Lawrence High Stadium, 19th and Louisiana Streets. Vandals also egged a section of the bleachers and moved some athletic equipment. No permanent damage was done to the facility itself.
We have two large high schools of about 3,000 students, many of whom have been friends and classmates since elementary and middle school.
While we do not yet know who is responsible for this incident, it likely involves a handful of individuals who showed extremely bad taste and poor judgment. In particular, we condemn and are disgusted by the racial epithet included in the vandalism. Their actions do not reflect the student bodies of our high schools, the positive relationship that exists between the two high schools or the respect our students have for equity and racial diversity.
Investigators with the Lawrence Police Department are investigating and Doll says both high schools are working together to find the vandals.
Pictures were provided by a  FOX 4 viewer. Please note that they are offensive and vulgar.  Once warned, if you still want to proceed, click on Page 2 below to see two pictures.