This is an archived article and the information in the article may be outdated. Please look at the time stamp on the story to see when it was last updated.
Midtown developer Brent Lambi is being held at the Jackson County Detention Center on a cash only $100,000 bond. @fox4kc pic.twitter.com/cvncz6vqrL

— Sherae Honeycutt (@sheraehoneycutt) December 3, 2018
KANSAS CITY, Mo. — A Midtown developer is wanted by police after he failed to show up to court on Tuesday.
Brent Lambi is charged with shooting at two people in July 2017. Police say it happened outside his property at 39th and Walnut streets.
One of the people he shot at is speaking out after hearing the news about a warrant being issued for his arrest. Blake Lostal owned the bar Blind Tiger but had to close it after the alleged incident with Lambi.
"We had to shut it down because, as being a landlord, you know, even if we had stayed he'd still be my landlord that shot at me," Lostal said.
"I just saw him shoot one shot towards the street," witness Ty Turner said. "I don't know who it was at or what it was at."
Lostal said on that day in July 2017, he and another person came to the bar like usual on that day when they saw Lambi outside the back of the building with a gun in his hand.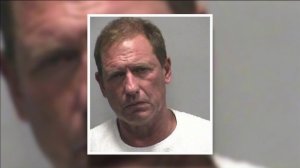 "I was like, what is he carrying? And it was a gun," Lostal said. "That's when he turned around and told us to stop, and he shot the rifle at us."
According to court documents, Lambi allegedly shot at Lostal's truck and hit a nearby car puncturing its tire. Police said Lambi told them his parents had been kidnapped and he needed to get police's attention.
The Jackson County prosecutor charged him with felony armed criminal action and unlawful use of a weapon in August 2017. When he didn't show up to court, a judge issued a warrant for his arrest on Nov. 27.
"I worry every day. I have a fiancé. I don't know what he's capable of," Lostal said. "Before he shot at me, I just never thought he would be that kind of person. Now, it makes it like — OK, he's capable of anything if he's able to do that."
FOX4 reached out to Lambi's lawyer listed through court documents who said he no longer represents Lambi, and that Lambi would be representing himself. We also went by several known addresses for Lambi where his businesses or himself had moved. FOX4 did speak with his assistant who said he can't comment on where Lambi is at this time.
All things that are leaving Lostal uneasy.
"If anybody sees him, please call the police because he's a very dangerous person," Lostal said.
Lambi has a number of court dates coming up, both criminal and civil. He's set to go on trial for this case on Dec. 17. If you have any information about where Lambi is, you're asked to contact the Jackson County Sheriff's Department.