This is an archived article and the information in the article may be outdated. Please look at the time stamp on the story to see when it was last updated.
KANSAS CITY, Kan. — Authorities investigating the shooting of an off-duty Wyandotte County sheriff's deputy gave an update on his condition at a news conference at The University of Kansas Hospital on Thursday. The deputy was taken to the hospital in critical condition when he was struck by at least seven bullets and suffered at least 14 entry and exit wounds during a burglary at a KCK 7-Eleven on Wednesday morning.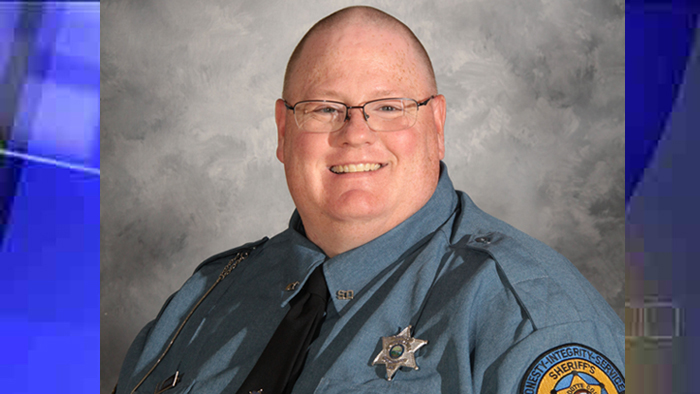 Wyandotte County Sheriff Donald Ash identified the victim as Deputy Scott Wood, 42, who has been with the sheriff's office since December 27, 2007. Deputy Wood is still in critical condition and on ventilator, but is doing better according to a doctor, and able to communicate through hand signals and written notes.
Deputy Wood's wife, Staci, said he is still providing her strength through a harsh ordeal.
"He is the rock of our family. Another deputy earlier today, he had been injured, had come see him the first thing he wrote is, 'how are you doing?' So he wants to know how other people are doing other than himself. He is a very strong man."
"This morning when they had him a little bit unsedated… the first thing he said to me, he pointed his eye and heart into me, so he told me he loved me," Staci continued.
Deputy Wood's shift had just concluded at about 1 a.m. on Wednesday when he stopped by the 7-Eleven off of Shawnee Drive and I-635 when three men entered the store. Investigators say the men were believed to be involved in two other convenience store robberies and were planning to rob the 7-Eleven when they hit a clerk with a gun and shot the deputy.
RELATED: Police investigate robbery suspects' possible connection to deputy shooting incident
Deputy Wood fell to the ground, but was able to use a portable radio to call in "officer down" before he was shot once more in the face. Sheriff Ash said the suspects then robbed the store, robbed the deputy and fled the scene, sparking a manhunt on Wednesday.
FOX 4's Shannon O'Brien reports that all persons of interest in the shooting and burglary have been apprehended and are in the Wyandotte County jail on unrelated charges, and police aren't looking for any more suspects. FOX 4 is awaiting the release of charges against them from the Wyandotte County District Attorney's Office.
Staci said it wasn't unusual for her husband  to visit that convenience store because the deputy often stops by that 7-Eleven just to check and see that everything is okay.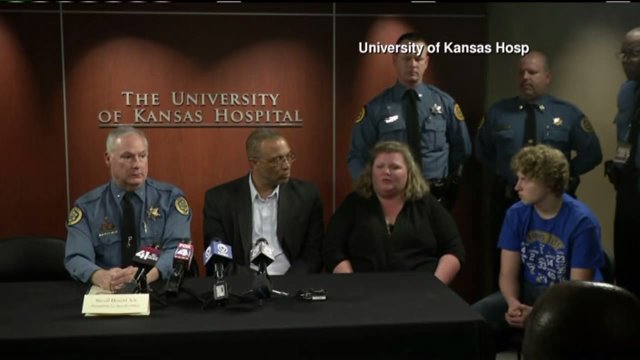 "I will tell you when he went to that 7-Eleven, he goes by there a lot before and after his shift. He wants to make sure that those people are okay. And that is what he does. So the fact that he checks on other people before himself, he is one of the toughest men I know," she said.
Their son, 15-year-old Blake Wood, echoed that sentiment, saying he is proud and admires his father.
"He's like my Superman. Nothing just can take him down," Blake said. "There are no words possible to say how proud I am, I mean I told him when he wasn't awake, whatever fight you have in you, pull it out right now because we are going to need it."
FOX 4 will provide updates on charges against the suspects and the deputy's condition as those details are confirmed.