This is an archived article and the information in the article may be outdated. Please look at the time stamp on the story to see when it was last updated.
LAWRENCE, Kan. – In his speech at the University of Kansas Thursday, President Barack Obama focused his attention on affordable childcare and the benefits this would have for every family, not just the middle class.
The President said that the typical cost of child care in 31 states is more than a year's tuition at a state university, leaving families feeling burdened.
Obama explained that he wanted to propose a tax cut up to $3,000 per child per year to help families with these costs. He said he has been urging lawmakers to embrace this policy, arguing that access to childcare can lead to higher employment and incomes for the moms, which benefit the whole family.
"It's time we stop treating child care as a side issue or a 'woman's' issue," President Obama said. "This is a family issue. This is a national economical priority for all of us."
President Obama said his proposals are supposed to provide opportunities for individuals to improve their skills.
"I don't want anybody being daycare poor," he said. Before arriving at Anschutz Pavilion, President Obama visited the headquarters for the Kansas Head Start Association, 932 Massachusetts Street in Lawrence. Head Start is an early learning program
"When you give parent support and you give child that little boost in the beginning, it lasts a lifetime," President Obama said "...Young people who get that good, early start are more likely to finish school and less likely to get in trouble with the law."
The President took advantage of moments during his speech when he could crack and joke and "win" the crowd. He even made jokes about the kids he visited, saying they recognized him from TV.
Also during his speech, President Obama reassured those in attendance that America is in a better place than it has been in recent years. The President highlighted job growth, increasing wages and lower gas prices to support his argument.
President Obama also didn't hesitate to bring up his Kansas roots as he explained to the crowd that his mom was from Kansas.
In addition to affordable childcare, the President called for unity against fighting terror, increasing wages and opportunities for individuals to get ahead.
President Obama ended his speech at KU by challenging those in attendance to start writing a new future for America immediately.
Bill Self, Jayhawk basketball coach,  made it known that he hoped he'd get a few minutes with the Commander and Chief, and during his speech, the President said he knew he was in Kansas on business, but said he had to fit in some basketball talk.
Scroll down to the bottom of this story to see some of the tweets and posts and pictures from people who caught a glimpse of the President or his motorcade.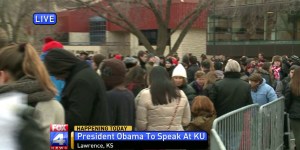 Early Thursday morning, students and others who have tickets began lining up in the cold outside Anschutz Sports Pavilion, 1575 Irving Hill Rd., where the President delivered his speech. at approximately 11:30 a.m.
Air Force One delivered the President to Forbes Field in Topeka at approximately 7:30 p.m., Wednesday where he was greeted by a small group that included Kansas Governor Sam Brownback (R), Topeka Mayor Larry Wolgast and Colonel Ron Krueger, the Wing Commander of the 190th Air Refueling Wing. He departed at approximately 1 p.m. Thursday.