This is an archived article and the information in the article may be outdated. Please look at the time stamp on the story to see when it was last updated.
Check out today's crash on I-435. Thankfully the driver received only minor injuries. pic.twitter.com/aWZ0Whz7Ux

— Frank Donchez (@OPPD_Chief) August 16, 2017
OVERLAND PARK, Kan. — In a video tweet Wednesday afternoon, Frank Donchez, Overland Park police chief, showed the close-call a semi driver had after slamming into a traffic barrier on westbound I-435 and Antioch Wednesday morning.
In the video above, you can see the truck hit the barrier that separates US 69 highway exit and westbound I-435. The impact sends it into the air. It lands and then bursts into flames.
The driver was trapped in the burning semi. Initially it was reported that firefighters pulled the driver from the truck, but FOX 4 has learned that other drivers quickly responded and helped the injured semi driver escape the cab.
KDOT tells FOX 4 that the westbound lanes of the interstate will be closed until 10 a.m., Thursday, from Antioch to Quivira.  Drivers normally using this route Thursday morning will want to allow extra time or choose an alternate route.
According to the husband of one witness to the crash, his wife was driving on I-435 when she saw the burning truck. Both she and another driver, whom she described as a stranger in his 20s, stopped to help, while other cars drove right by through the thick smoke. They pulled the semi driver and his dog out of the truck, the husband says. She says the driver had a few burn marks, but appeared to be okay overall.
FOX 4's Kera Mashek talked to the heroic drivers who stopped to help the man. Look for updates on her story on FOX 4 News at 5&6, the fox4kc app and Facebook page.
Nick Vasos reports this is the third fiery crash along that stretch of highway in the last five weeks. The area is currently a work zone.
If you witnessed this accident or have any information you are asked to contact the Overland Park Police Traffic Safety Unit at 913-895-6300.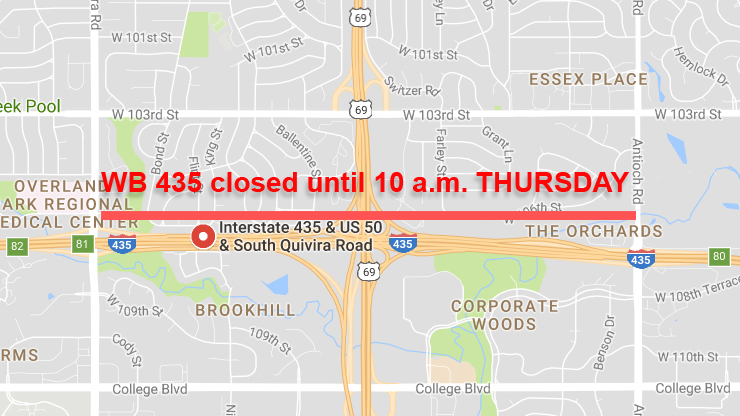 #KCMETRO Traffic Update:

I-435 WB at Antioch Road will remain closed for attenuator repair until approximately 10 a.m. tomorrow Aug. 17.

— KCMetroKDOT (@KansasCityKDOT) August 16, 2017
#KCTraffic pic.twitter.com/TMM810vtUA

— Peter (@eastafricanlion) August 16, 2017
My wife just helped a man and his dog from a burning truck on I-435 westbound at 69 hwy. pic.twitter.com/EGtZ0rJOnM

— John Henning (@envelopespot) August 16, 2017