This is an archived article and the information in the article may be outdated. Please look at the time stamp on the story to see when it was last updated.
WELLSVILLE, Kan. — In March FOX4 introduced you to 5-year-old Dylan Beam, a Wellsville, Kansas, boy in need of an expensive service dog because of seizures.
Thanks to FOX4 viewers, the family got thousands of dollars in donations. One donor even said they would pay the entire cost of the dog.
But then that donor disappeared, and people in the community said he's claiming the pup was paid for. However, according to SIT Service Dogs and Dylan's mom — that's not true.
Amy Beam, Dylan's mom, closed the Gofundme page when the donor initially came forward and asked people to donate to other children that needed help.
Lex Dietz, the program director with SIT Service Dogs, said Beam was relieved.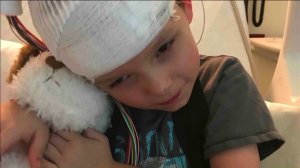 "It takes so much burden off their heart to know that they're in line. This is happening, and they're preparing for the dog to enter their lives," Dietz said.
However, months passed, and the dog was never paid for.
"It's honestly been heartbreaking because we thought it was all done, and now we're not sure where to turn," Beam said.
"There was always a different reason. 'Oh, there's a business deal,' or this has happened, or that has happened, and that's why it hasn't been paid. It will be paid in a week. It will be paid in two weeks," Dietz said.
The big problem was both Beam and SIT Service Dogs found out the donor was telling people he'd already paid for the dog.
"People are confused. You know, he's saying to people that he paid for the dog, and in fact, he hasn't. And so that's kind of a hard thing to fight against and look as honest as you can, and it's really unfortunate," Dietz said.
FOX4's Sherae Honeycutt paid a visit to the donor's house but discovered he no longer lives there. She went to his listed business address, and the door to the building was locked with dirt and dust covering the windows and doors. She called the phone number, but it no longer belongs to him.
"Honestly, just sad. There's really nothing else to explain it is — I don't know why somebody would offer to help my boy and then just not contact anybody. I don't get why someone would do that," Beam said.
She's hoping someone can step in to help. His mom said Dylan is struggling and back in the hospital with swelling on his brain. Beam opened a new Go Fund Me page to hopefully make Dylan's dog a reality.
"It would mean the world because it could keep Dylan safer," Beam said. "I don't really know. I've got to figure out what to do, what to do, what`s best for Dylan, and that`s all that really matters."
If you would like to donate and help Dylan reach his goal, you can donate here.