This is an archived article and the information in the article may be outdated. Please look at the time stamp on the story to see when it was last updated.
KANSAS CITY, Mo. — When you think of eastern Kansas and western Missouri, earthquakes don't exactly come to mind in these parts. But they do happen, and they will happen again somewhere in the future.
Typically, earthquakes in the metro are more of a curiosity.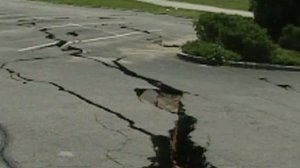 In 2016, during a FOX4 Saturday morning newscast, a rather strong earthquake, measuring 5.8 on the Richter scale, hit Oklahoma — some 200 miles away from KC. But it was felt all the way into the metro area. Other earthquakes have hit Oklahoma and Kansas over the years.
Most geologists agree they've been mostly triggered by mankind and the injection of brine back into the ground to get oil out.
Although not as famous as the New Madrid fault in southeast Missouri, there's actually another fault though closer to Kansas City in eastern Kansas, called the Humboldt fault. It stretches from southeast Nebraska to near Manhattan to east of Wichita.
Although docile most of the time, the largest Kansas earthquake to ever occur happened on this fault in 1867 near Manhattan.
Want to learn more about earthquakes in Missouri and Kansas? Watch the video above for the full report from meteorologist Joe Lauria.