This is an archived article and the information in the article may be outdated. Please look at the time stamp on the story to see when it was last updated.
KANSAS CITY, Mo. -- Repairs to the Buck O'Neil Bridge began Saturday, and that means big adjustments are ahead for a lot of metro drivers.
The bridge is more than 60 years old and faces major structural problems. The Missouri Department of Transportation said it needs to repair expansion joints, replace cables and work on the main pier in the Missouri River.
All that work means no access for those who take the southbound lanes into downtown Kansas City.
One thing is for sure: Northland drivers can expect a longer commute time come Monday morning.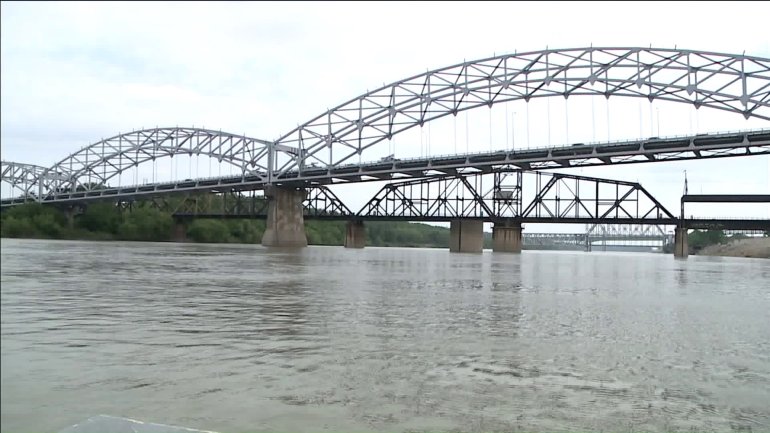 "A lot of it is adjusting what traffic is doing, and you know, maybe two days in, many find a better route," said James Pflum, resident engineer with MoDOT. "So do your best to plan, but in the end, plans may ultimately change."
Northbound lanes will remain open, but southbound traffic on Highway 169 coming across the Buck O'Neil Bridge will be closed for five months. But about 44,000 metro driers use the bridge every day, so where are they going to go?
Many drivers north of the Missouri River will likely use the Bond Bridge -- the official detour recommended by MoDOT. Others will use the Heart of America Bridge, and Platte County drivers will likely choose the Fairfax Bridge through Kansas City, Kansas.
Regardless of your new route, you can expect to add 10-15 minutes to your normal travel time as drivers adjust to the Buck O'Neil Bridge closure.
Just remember if you stay on southbound Highway 169, you'll run out of road at the downtown airport.
"You're going to have six months of inconvenience, but it's the first step in a multi-step process to build a brand new bridge that will handle our capacity issues, handle our traffic safety issues and improve convenience," Troy Schulte, city manager for Kansas City, told FOX4 earlier this month.
Yes, these repairs  to the Buck O'Neil Bridge are just a temporary fix.
"So the original plan was for a 35-year fix," Pflum said. "Now we`re looking at much shorter-term solution, but it allows us to partner with the city of Kansas City to look at a new bridge."
In April, Kansas City voters approved the renewal of a 1 percent sales tax to help pay for a new bridge. However, the new bridge project is not fully funded. The state needs to find an additional $50 million.
"We know the importance of this job and the importance of partnering with Kansas City, and so we're going to do everything we can to find those additional funds," said Susan Barry, assistant district engineer at MoDOT.
MoDOT used traffic modeling -- looking 20 years into the future and accounting for development in the Northland -- and even helicopters to see how traffic moves in and out of the downtown loop as they plan for the new bridge.
Plus, the community has made it clear the new bridge should be bicycle and pedestrian friendly.
"I think you have to think of downtown more as a destination instead of a pass-through," Barry said. "You think of what downtown looked like 20 years ago, like it did on the weekends. It's definitely not like that anymore."
And what about the design of the new Buck O'Neil Bridge?
"We're going to do what we can to work with the city to make it as attractive and iconic as we can," Barry said. "Buck O'Neil, he's an important person in this community. He's well-known, and we definitely want to give him a bridge that is worthy of him."
This year's $5 million repairs to the bridge and the southbound lane closures are expected to take until Dec. 1. A $2 million study will be done at the same time that will lay the groundwork for what is expected to be a $200 million replacement bridge.
With all the ongoing changes to traffic in Kansas City, we're starting something new at FOX4. We want you to join the FOX4 Power Traffic team as a member of our road crew. When you see traffic, just use #FOX4RoadCrew on social media and tell us what you're seeing.