This is an archived article and the information in the article may be outdated. Please look at the time stamp on the story to see when it was last updated.
KANSAS CITY, Mo. — Kansas City police want your help in identifying a man accused of stealing an oil painting from the Waldo branch of the public library.
The suspect was caught on surveillance video late last October when he allegedly took off with the painting.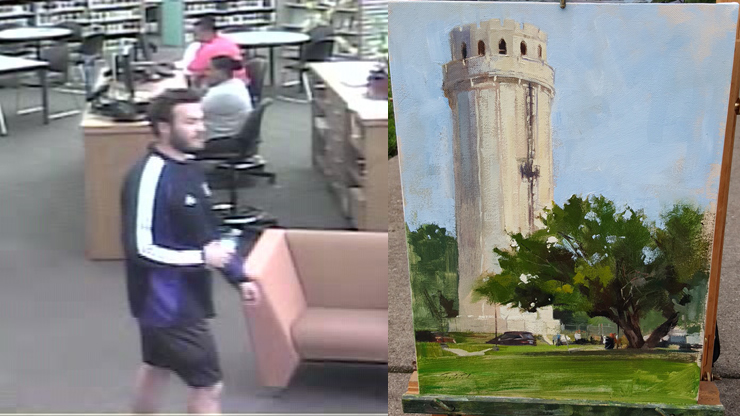 The painting is by a local artist named Patrick Saunders and it's of the historic Waldo Water Tower. Saunders painted it at last year's celebration for the second phase of the tower's restoration, and that's where Kurtis Marinez, the president of the Waldo Tower Historic Society, bought it.
Marinez later loaned it to the library for everyone in the community to enjoy; but after only being on display for six weeks, it went missing.
"I just thought to myself, why would anyone do that?" Marinez said. "It's such a great piece of artwork being shared with the community and they would just go and take it. I just couldn't believe it."
Marinez said he thought the thief would eventually bring it back, "but it's gone."
Employees at the library said it's "heartbreaking" that such a bold thief would steal anything from their building.
"I can't imagine why anyone would want to steal it from the public library," said Courtney Lewis, media representative for the Kansas City Public Library.
"It just seems really odd. It was at 4:30, one of our busiest times, so it just doesn't make sense. It's kind of why would you come to the library, we are part of this community and we love this community, so we're just wondering what this person is doing with it."
The painting only cost $150 dollars, but Marinez believes its worth much more than that and would like to return it to the library.
If you've seen the suspect or know where the painting is, call Crime Stoppers at (816) 474-TIPS.