This is an archived article and the information in the article may be outdated. Please look at the time stamp on the story to see when it was last updated.
NEW FLORENCE, Mo. — The wife of Randy Nordman, the 49-year-old man killed Tuesday morning inside his garage, and who prosecutors believe was the fifth victim of suspected murderer Pablo Antonio Serrano-Vitorino, 40, told police her husband struggled with a man who had a weapon, while she ran upstairs to the attic to call 911.
In the probable cause statement released on Thursday, the woman says shortly after she called police, and while she was in the attic, she heard a single gun shot. She then saw a man flee their property on foot.  She described him as having black curly hair, a dark blue sweater and blue jeans.
When police responded, they say they found a magazine and live rounds that fit the description of the rounds used in the homicides in Kansas City, Kansas on Monday night, March 7.   Clint Harter, 27, Austin Harter, 29, Mike Capps, and Jake Waters were all found dead at the home in the 3000 block of South 36th Street Monday night.  When police responded to that call, Serrano-Vitorino was immediately identified as the suspect and police asked the public to be on guard for an armed man in a red Dodge truck. The truck was located in Montgomery County, between Columbia and St. Louis, at about 7:00 on Tuesday morning. It was found less than four miles from Randy Nordman's home.
After a manhunt that lasted all day and all night, authorities found Serrano-Vitorino at approximately 12:15 Wednesday morning.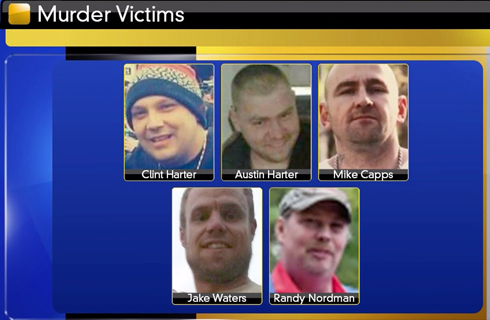 Serrano-Vitorino is charged with four counts of first-degree murder in Wyandontte County and one count of first-degree murder in Montgomery County. He's currently being  held in the Montgomery County Jail. On Thursday, authorities say he attempted to take his life but was transported to the hospital and is listed in stable condition.
Click here for FOX 4's comprehensive coverage of the five victims and of Serrano-Vitorino, the man suspected of their murders.