This is an archived article and the information in the article may be outdated. Please look at the time stamp on the story to see when it was last updated.
KANSAS CITY, Mo. — A metro man is taking the clean-up of his neighborhood into his own hands but not without the help of his neighbors.
Hyde Park residents are taking it upon themselves to keep where they live clean.
Nickolas Wood said he almost gave up on his neighborhood clean-up idea last year but decided to keep trying. From basic chores to graffiti removal, his program is now in full swing.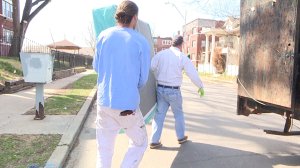 "General neighborhood clean-up, any bulk items," he said. "And of course, Kansas City 311 services does do bulk items. I always call them to make sure, for example, in this neighborhood, south Hyde Park, they do it on the first trash day and the third trash day. So they aren't going to be here any time soon until the 23rd, so whatever big bulky items you see on the curb, they're going to stay there. So I figured I'll just go ahead and make it look cleaner and better."
A friend is letting him use his truck because he was borrowing it so much to clean up. Now there's even a south Hyde Park logo on the front to make it official.
Wood said he's had lots of help from his neighbors, including multiple families who often bring out their kids to help, too.
"It just makes a big difference to drive down, see the bright fire hydrants that are nice and shiny, no more graffiti everywhere," he said. "Hyde Park looks better because of that."
Wood said people offer to help now that they know he's doing it. Sometimes he goes out solo, but he said more people chip in on the weekends.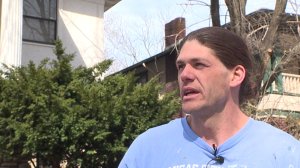 "Families and children around here — it makes sense to have a brighter, safer community," Wood said. "It's worth more. You can drive into any other neighborhood and see the graffiti and bulk trash, and I try to eliminate that in south Hyde Park. I like living in a beautiful neighborhood."
Plus, it's a good way to meet your neighbors.
"It's good to meet neighbors," he said. "It`s a good way to just say hi to people."
Wood said he takes the trash to landfills and recycling units. Many neighbors also donate money to get the items dumped properly.
Wood is always looking for a helping hand. If you're interested in helping out, email Melissa.Stern@fox4kc.com and she'll put you in touch with Wood.