This is an archived article and the information in the article may be outdated. Please look at the time stamp on the story to see when it was last updated.
KANSAS CITY, Mo. -- Voters overwhelmingly supported a new single terminal KCI in Tuesday's election.
"I think that road to a world class airport starts today as we roll up our sleeves and get rolling forward," Kansas City council memberJermaine Reed said.
While the much-debated, yearslong fight for a new airport is over, the hard work of making it a reality begins.
Right now, it's business as usual at KCI. But a lot of travelers are upbeat, ready for adventures and a new airport to take them there.
"I love this place and love traveling," traveler Jay Johnson said. "So I always look forward to upgrades at any air terminal."
Johnson is a military veteran, taking his sweet five-month-old baby boy Stark on his first trip to see his grandparents. He said KCI has always been a good airport to come through but that it definitely has its flaws.
"I'd have to say seeing as we're going into the tech generation, I'd love to see more seats with those USB plugs to kind of help keep us charged and up to date, access to things we may need," Johnson said. "And one thing I'd definitely say we need is more baby changing stations in the men's restroom."
All those bells and whistles are just a sliver of what travelers can expect in the new KCI.
"This is our front door," Kansas City Mayor Sly James said. "When you walk up to the front door of a house, you want it to be something that's inviting. You want it to be something that says welcome and come on in."
While some frequent flyers have harped on KCI's convenience, airport developers insist the new single terminal will offer some perks the current airport doesn't.
The travel lanes for arrivals and departures coming into he airport will be separated to avoid traffic jams outside the airport. There will also be more ample parking near the new terminal, making the trek from your car to the gate even quicker.
"Convenience doesn't end at the curb side," Edgemoor Infrastructure managing director Geoffrey Stricker said. "So once you come in security, and getting through security will be more efficient, the convenience of having a place to sit down, plug in your phone and laptop, get some food, no lines at the restrooms --things like that will be reflected and therefore make it a much more convenient experience for travelers."
And in the coming months, you'll have a say in how it all comes together.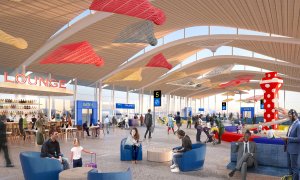 "That's why we said all along we want Kansas Citians to have input in the Kansas City Airport," Stricker said. "So we'll hear feedback and look for common themes as we go from different council member districts then synthesize that and put the best ideas into the new terminal design."
At least six town halls will be held. The first one is tentatively being planned for early December. Environmental work will begin in January. Construction crews will then start ripping out Terminal A next fall. Terminals B and C will stay open as the new terminal takes shape where the old Terminal A sits now.
"I'm looking forward to them expanding and making things better around here," Johnson said.
The city said it will still make needed patches and repairs to keep the current airport running until the new terminal is finished in 2021.
The next big step is for the city to finalize a formal agreement on paper with Edgemoor, the firm developing the new airport, and the airlines. That's on the city council agenda for Thursday, Nov. 30.
There will be a bunch of milestones to follow -- from official groundbreaking to hiring for new jobs and that series of open houses where the public can pitch in on the airport plans.
You can stay up-to-date with the KCI project by visiting KCMO.gov/subscribe or by regularly checking KCMO.gov/newkci and KCI-edgemoor.com.