This is an archived article and the information in the article may be outdated. Please look at the time stamp on the story to see when it was last updated.
KANSAS CITY, Mo. -- Jackson County Prosecutor Jean Peters Baker announced charges Wednesday against a father and his daughter in connection with the assault of a Ruskin High student Tuesday.
The assault happened at the school in south Kansas City.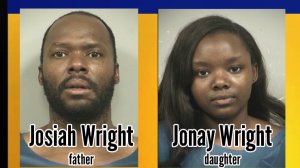 Josiah S. Wright, 38, has been charged with first-degree assault. Jonay L. Wright, 17, has been charged with second-degree domestic assault her alleged involvement.
Court documents say when police responded to the school they found the victim unconscious on the floor. Witnesses told them that Jonay Wright, the victim's ex-girlfriend, and her father Josiah Wright had attacked the victim, kicking and hitting him in the head and body.
One witnesses stated that the father stomped the victim's head as well, while the daughter kicked him.
The probable cause statement says Josiah Wright admitted to police that he pulled the victim off his chair in order to allow his daughter to assault him. He said he held other individuals back in order for her to continue hitting the victim.
According to court documents, one witness recalled hearing Josiah tell the victim, "you threatened to kill my daughter. I'll f--- you up."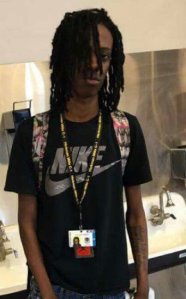 The victim is still in the hospital in critical condition with a possible brain bleed and swelling, court documents say. He has severe abrasions to his right eye, swelling and bruising to his entire head and bleeding from his left ear.
FOX 4's Kera Mashek spoke to the victim's parents on Wednesday. FOX 4 will put their conversation on the fox4kc website/app as soon as Kera's report is ready. Look for her complete wrap on FOX 4 News at 5 & 6 p.m. Download the FOX4KC app to get alerts about this and other stories.
"When I learned it was an adult and the student, my mind just went berserk. I could never imagine assaulting somebody else's child," the victim's mother said. "I couldn't believe it. Seeing your child on the floor in a fetal position, unconscious. I'm trying to talk to him and he is regurgitating his lunch that he had ate more than 20 minutes before this happened."
Prosecutors have asked that Josiah Wright's bond be set at $100,000 and Jonay Wright's bond be set at $30,000.
The school district sent out a letter to district staff, saying it wanted to clarify information it felt was reported in error.
"All protocols were followed regarding the parent's admission into the school, as well as administration's management of the incident," said Ruth Terrell-Lee, Director of Public Information and Partnerships.