This is an archived article and the information in the article may be outdated. Please look at the time stamp on the story to see when it was last updated.
LIBERTY, Mo. — A woman has been charged in Clay County after allegedly driving the wrong way down the interstate while intoxicated with her child in the vehicle in the early morning hours on the 4th of July.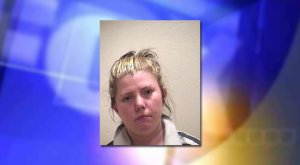 Danielle Pauline Newcomer, 23, is charged with endangering the welfare of a child after police said she was pulled over while driving south in the northbound lanes of Interstate 35.
Court documents state that officers were dispatched to the area of 69 Highway in Mosby, Mo. around 3:30 a.m. on Tuesday regarding a wrong way driver on the highway. A short time later, an officer spotted Newcomer's black 2010 Chevy Impala traveling the wrong way on the highway in Liberty.
The officer caught up with the vehicle, traveling next to her vehicle with the concrete barrier in between them. The officer engaged his lights and sirens, as well as his cruiser's PA system to tell her to pull over.
Newcomer eventually came to a stop in a lane of traffic of I-35, court records say. The officer ordered the driver to unlock the passenger door, which she did not do. More police responded to the area. An officer unlocked the door from the driver's side at which point, she put her vehicle in park.
The officer noticed a 2-year-old in a child seat behind the driver. He observed damage to the passenger side of the Chevy. Newcomer was arrested for driving while intoxicated, careless driving, and child endangerment.
An officer had to wake Newcomer to administer a breath test, which revealed her blood alcohol content at .176.
Newcomer admitted to drinking alcohol at her brother's home located on Green Hills Road off 152 Highway in Platte County before driving home. Officers showed her photos of the damage, which she said was new damage, but could not remember how it happened.