This is an archived article and the information in the article may be outdated. Please look at the time stamp on the story to see when it was last updated.
OLATHE, Kan. — A Kansas City woman is facing child endangerment charges stemming from an incident dating back to 2014.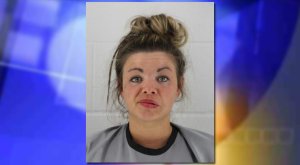 Felisha Hartman-Grey, 26, faces two counts of endangering a child involving two victims were were 2 or 3 years old, and less than a year old at the time. The Johnson County Sheriff's Office said the initial charges — filed on Aug. 26, 2014 — were based on a Johnson County Community College Police Department report.
After an arrest in April, Hartman-Grey was released after posting a $5,000 bond. Hartman-Grey then failed to appear at a scheduled hearing on Tuesday.
Hartman-Grey was back in police custody Tuesday. Her bond has been set at $10,000.
FOX 4 will have more information as details become available.