This is an archived article and the information in the article may be outdated. Please look at the time stamp on the story to see when it was last updated.
KANSAS CITY, Mo. -- A Kansas City woman fought off an attacker inside the restroom at a popular Crossroads arcade bar.
The attempted sexual assault happened last Friday at Tapcade, a restaurant and bar that also serves as a movie theater and arcade, near 17th and McGee streets.
The victim, whose identity FOX 4 is protecting, was at Tapcade with her husband and friends watching the Royals game. Just after midnight, she got up to go the bathroom alone.
"I was drying my hands and a man came out of a stall next to mine," she said. "He acted like he was confused. So I told him he was in the wrong restroom. My back was to the door."
She thought he was going to leave, but soon his true intentions came to light.
"He proceeded to turn around, put his hand over my mouth," she said. "He took me to the ground. I struggled. I tried to scratch his face. I kicked. I hit. I screamed."
She said her attacker kept trying to put his hand over her mouth, "but I kept moving so that I could scream and maybe someone would hear me."
Her screams were loud enough that a Tapcade bartender and an employee on the catering staff at the adjoining Monarch Room ran to help.
"She was laying on the ground, facing away from us," remembered Josh Dugdale, who was working at The Monarch Room, "and he was backing away from her and put his hands up and was like, 'It wasn't me. It was her fault.' All this stuff, he was trying to put it on her."
But Dugdale and the bartender weren't buying it – telling the suspect to back away as they checked on the victim.
Amidst all the commotion, the suspect walked out of the bathroom and right out the front door before police were called.
"I really was just in shock," the victim said. "I never thought that something like that could happen to me, as most women don't, and it really has taken a few days to process."
She said her main concern now is making Tapcade safer for women – something bar co-owner Brent Miller said they're now addressing.
"Our number one thing here is safety," Miller said.
His bar is now pledging to install security cameras near the bathrooms and train staff to keep a closer eye on secluded areas.
"We feel terrible for the victim," he said, "and we want to make sure it doesn't happen to anybody else again – not only here, but anywhere in the Crossroads."
As for this victim, she plans to take self-defense classes.
"Fortunately for me, unfortunately for him, he picked the wrong person," she said, "and I fought just enough that I was able to escape before anything happened."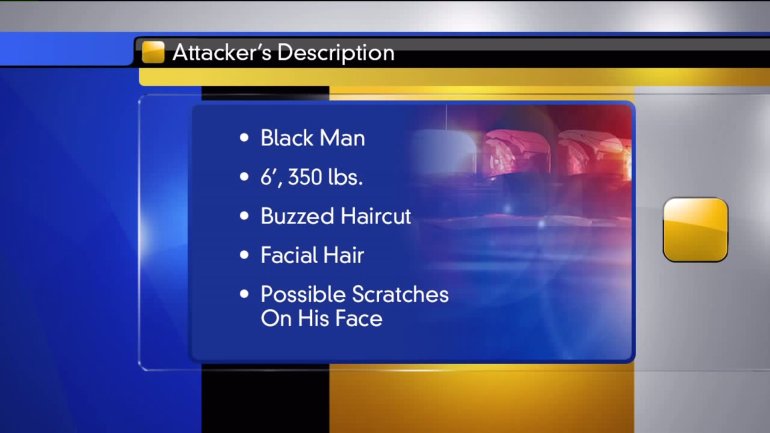 Police are now looking for that man. He's described as black, 6 feet tall, about 350 pounds, with a buzzed head. He had some facial hair and was wearing a black zip-up hoodie and khakis that night. He should also have some scratches on his face from where the victim fought back.
If you know who the man is, call Crime Stoppers at (816) 474-TIPS.