This is an archived article and the information in the article may be outdated. Please look at the time stamp on the story to see when it was last updated.
LAWRENCE, Kan. — A detective testified Friday morning that Sarah Gonzalez McLinn told him during an interrogation that she murdered Lawrence businessman Harold Sasko because she wanted to know what it was like to kill someone and see them die.
McLinn, 19, was in court Friday morning in Douglas County for her preliminary hearing. McLinn is accused of murdering her roommate, Harold "Hal" Sasko, 52, on January 17.
Prosecutors presented their case against her and the judge determined there is enough evidence for her to stand trial. The date was set for August 4.
In January, officers responded to the home to check the welfare of McLinn, who hadn't been seen or heard from by her family since January 14. Officers were unable to locate McLinn or Sasko's 2008 Nissan Altima.
McLinn was found in Sasko's car on January 25 illegally camping in the Florida Everglades and taken into federal custody on an unrelated drug charge. She was soon returned to Kansas.
The detective who interrogated her after her arrest, also testified Friday that McLinn said she and Sasko did not have a sexual relationship, although he would make passes at her sometimes when he drank.
Detective MT Brown, Lawrence Police Dept., told the judge that McLinn decided five days before she killed Sasko that he would be the target of her violent thoughts. She reportedly told Detective Brown that Sasko had mentioned committing suicide anyway.
According to Brown, she called work to tell them there was a death in the family, so they wouldn't look for her for a few days.
Brown further testified that during the interrogation, McLinn described planning and executing the murder as outlined below:
Sasko came home, started drinking beer and working on a speaker system. When he asked her to get him a beer, she added ground-up sleeping pills that she previously crushed and hid on top of the microwave.  After awhile and a couple more beers, he passed out on the floor. She used zip ties to bind his ankles and wrists.
Brown testified that McLinn used a large hunting knife to stab him in the neck from overhead, trying to thrust it in as far as she could. She reportedly said it was harder than she expected, so she used her left hand to hold his head while she stabbed. Then, she took the knife to the sink, soaked up some of his blood with a towel and wrote the word 'Freedom" into the blood, according to the detective who interrogated her.
Investigators said the only letters they could read were the "F" and the "R" in the word.
The detective's testimony continued, saying McLinn then said she took a shower and listened to music while she did.  When she began to realize the seriousness of what she'd done, McLinn allegedly said she packed up her things, including a picture of her sister, and planned to "see the ocean" in Texas. The detective testified that a tattoo artist who gave her a tattoo while she was on her trip, told her Florida's beaches were nicer, so she went there.
Prosecutors presented other evidence that showed before Sasko's murder, McLinn bought a rabbit in Lawrence and killed it in the same way. Investigators presented written statements from people who know her claiming they'd seen her stab a rabbit, then skin it and eat it.
FOX 4 reporter Megan Dillard was in the courtroom and said many of McLinn's family members were there to support her.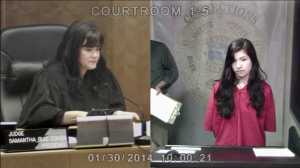 In February, FOX 4 also attended a hearing as McLinn went before a judge. She never once looked up at her family on her way in or out of the courtroom that day.
"They are just in shock," Carl Cornwell, McLinn's defense attorney said then. "She was embarrassed. She didn't want to see her family there. She was embarrassed," said Cornwell.
Cornwell said McLinn is competent, but may have some mental issues.
McLinn went to high school in Topeka. She worked for Sasko at one of his three CiCi Pizza restaurants; two located in Topeka, one in Lawrence. Sasko's relatives reported he let McLinn move into his house in Lawrence while she was dealing with personal problems.
Testimony on Friday indicated McLinn said she and Sasko had fake names for each other. He would call her Vanessa and she would call him Scott.
District Attorney Charles Branson said the method used to kill Sasko has been determined as "heinous, atrocious, and cruel" in nature. Branson has requested a 'hard 50 penalty' in this case, which is a life sentence with a chance of parole after 50 years.
If McLinn is found guilty of premeditated first-degree murder and the felony theft of Sasko's vehicle, she would likely receive the 'hard-50' penalty due to the aggravated findings of this case. According to Branson, in the state of Kansas, the punishment would normally be life in prison with a chance for parole after just 25 years.
She is currently being held on a $1 million bond.
Previous story:
Footage of press conference held on Monday: