This is an archived article and the information in the article may be outdated. Please look at the time stamp on the story to see when it was last updated.
KANSAS CITY, Kan. – A KCK dealership is down a Mercedes after a woman took it for a test drive and never returned it.
Employees at KC Car Gallery, located on Rainbow Boulevard, said it's been more than a week since the woman took off with a 2007 Mercedes-Benz S550.
"The lady didn't seem at all like she would steal a car," said Raymond Castaneda, an attendant at the lot. "It was just supposed to be a test drive."
Castaneda said the woman came to the used car dealership a few weeks prior to April 19 when the alleged theft happened.
"She didn't have the proper paperwork to test drive the vehicle and said she'd be back in a few weeks when she gets her driver's license," Castaneda recalled.
At the time, the dealership, which has been in business for 20 years, required interested buyers to show a valid driver license, provide an address, phone number and complete a form indicating full insurance responsibility if something there were to happen to the car.
"People usually give us the right information," Castaneda said. "We've never had this exact situation happen."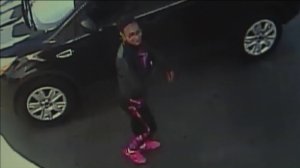 Surveillance video shows the woman returned to the lot on April 19. Employees said she provided the necessary documents, including a temporary license, and they let her take the car, which was priced around $20,000, for a test drive without a salesman.
"She was very polite, well-spoke, outspoken, too," Castaneda recalled. "She was just a normal customer like everyone else who has bought a car here at KC Car Gallery."
After about 20 minutes, employees realized the woman wasn't coming back. They tried contacting her at the number and address she provided but the information was false.
"It's baffling," Castaneda said.
Glen Dakan, CEO and founder of Pure Pursuit Automotive, said salesmen at his high-end dealership in the Crossroads constantly think about ways to prevent "joyriding."
"We're always a little guarded until we verify that driver's license, Dakan said. "We feel like that is important."
He said the woman's temporary identification would have instantly been a red flag at his shop.
"We run our driver's licenses through a verification system as well as require proof of insurance be provided so we can verify," Dakan added.
Looking back, Castaneda thinks the woman realized their system at KC Car Gallery was flawed.
"I believe she figured out kind of how we operated our test drives and realized she didn't need as much documentation," Castaneda said.
KC Car Gallery has since made changes and now requires a salesman to ride-along during test drives.
"Sometimes it takes things like this to reanalyze how to make sure stuff like this doesn't happen," Castaneda said.
Castaneda said there was no way of tracking the Mercedes because the navigation system is not enabled. If you recognize the woman in the video above or know anything about the theft or car, call the KCK Police Department.