This is an archived article and the information in the article may be outdated. Please look at the time stamp on the story to see when it was last updated.
LOUISBURG, Kan. — On Thursday, police released a picture of a man they want to talk to about the robbery of a woman in Louisburg, Mo. on Tuesday.
According to Miami County authorities, at 11:30 am on Tuesday a woman reported that two men broke into her home armed with a knife, tied and blindfolded her and demanded money.
The two suspects looked through the house for money and left.  The woman was able to free herself and called the sheriff's office and officers were sent to the scene. At the same time an officer from Louisburg attempted to make a traffic stop of a car after it had run a red light near 271st and Old Metcalf.
The car sped away and after a short chase, the vehicle stopped. One man surrendered and two others fled on foot.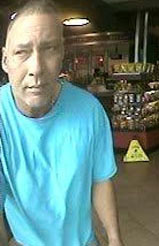 On Wednesday, deputies were called to the area of U.S. 69 Highway and 247th Street after reports that one of the suspects was walking around in that area. When they arrived, they did not find him, but on Thursday, they released the photo and asked anyone with information to call the Miami County Sheriff's Office at 913-294-3232 or CrimeStoppers at 913-294-TIPS.