This is an archived article and the information in the article may be outdated. Please look at the time stamp on the story to see when it was last updated.
KANSAS CITY, Mo. -- A metro woman who survived a harrowing attack after being kidnapped is speaking out with a message to anyone else who might find themselves in the same situation: Fight to the very end.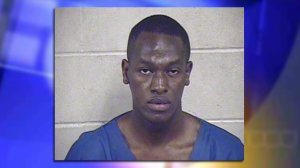 Prosecutors charged 24-year-old Godfrey K. Kirui after they say he stole a car with a woman still inside, drove off, and raped her on Sunday.
That night out turned into a nightmare when Terra May found herself trapped with a complete stranger. The 22-year-old woman was waiting in her unlocked, running car as her fiancé walked back into Club Aura to find a friend.
"Someone got into the car. I didn't even look up to see because I just thought it was my fiancé getting back in and so I didn't even lift my head up," May said.
May said he hit the curb. She then looked up to see a man she'd never seen in her life. Courts documents say Kirui took the wheel and drove down 39th street.
"I'm going to get you home. I'm going to get you home. That's all he kept saying. I said you don't even know where my home is," she said.
That's when May began to fight. She threw a punch, Kirui did the same. Documents say she yanked the steering and crashed the car into a tree near Gillham Road. Instead of running, May said Kirui raped her.
"I was kicking and he just overpowered me. There was nothing I could do. I was screaming at the top of my lungs hoping someone would hear me," May said.
When police arrived, documents say Kirui threw May out of the car, jumped back in, and tried to drive off. He was taken into custody.
"I knew if I didn't do something, he was going to hurt me or kill me or everything," she said.
May's message through this harrowing ordeal: find the strength to fight to the very end.
Kirui was charged with rape and assault. He is held on a $150,000 cash bond.