This is an archived article and the information in the article may be outdated. Please look at the time stamp on the story to see when it was last updated.
KANSAS CITY, Mo. — Holiday shopping is in full swing, but now the focus shifts to giving back with "Giving Tuesday."
At FOX4, we continue "Working for Blue" to raise funds to help purchase police protective gear, including vests and helmets, and a metro man is now offering a practical way you can help this holiday season.
Two hand prints, joined by a single heart make a unique greeting. It's a simple design Dennis Mitchell first spotted when he was just a kid.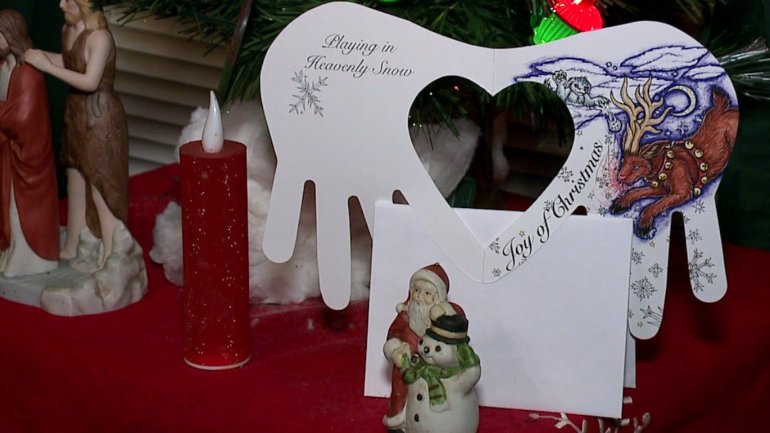 "I was shooting rubber bands at my brother, little rubber band guns. I was aiming them from behind the couch, and I saw the heart," said Mitchell, founder and creator of Hands of Heart cards.
Years later, he'd take that gesture and create these beautiful greeting cards he calls Hands of Heart. Mitchell believes it can be a powerful symbol for unity.
"We need more love and peace in the world. For something that could be worldwide, it could do a lot of good I believe," Mitchell said.
He's already sold the cards to benefit mental health and suicide prevention organizations.
After hearing about "Working for Blue," he knew the cards could also help protect police. It's a cause near to his own heart. His nephew is a police officer in Tuscumbia, Alabama.
"They need the vests, and hopefully this could help to do that and keep them safe," Mitchell said.
Detailed reindeer in the snow Christmas cards are just $3 each.
Mitchell will donate half the proceeds of the holiday greetings to "Working for Blue" in honor of those like his nephew who serve and protect us all year round.
"I hope it could make a difference," Mitchell said.
If you'd like to order a Hands of Heart card, Dennis Mitchell can accept cash or check payments for the greeting cards.  He can be reached at 816-890-2587.  Cards take approximately two weeks to ship, so order quickly to guarantee delivery before Christmas.
If you'd still like to make a pledge to help our police protection drive, you can do so here.