This is an archived article and the information in the article may be outdated. Please look at the time stamp on the story to see when it was last updated.
KANSAS CITY, Mo. — Beyond church pews and stained glass, there's a group of dedicated pastors who volunteer to work alongside police.
The Kansas City Police Department has seven chaplains and is working to expand the service. But right now, those chaplains are putting themselves in the line of danger without protection.
At the start of each shift at KCPD's stations, there's a roll call.
"So we've got 15 today," KCPD Sgt. Michael Lenoir said.
It's a chance to check-in and share important information with officers before they hit the streets. In the room on this day, three of KCPD's chaplains are present.
"Honestly, even for me, that's kind of an underutilized resource I think that we have here," Lenoir said.
The chaplains work closely with officers, getting to know them on ride-alongs.
"It's easy to go, 'How you holding up? You doing OK?' And once you establish that relationship with an officer, they'll open up and they'll talk," said Kevin Hardy, KCPD lead chaplain and pastor with Create Church KC.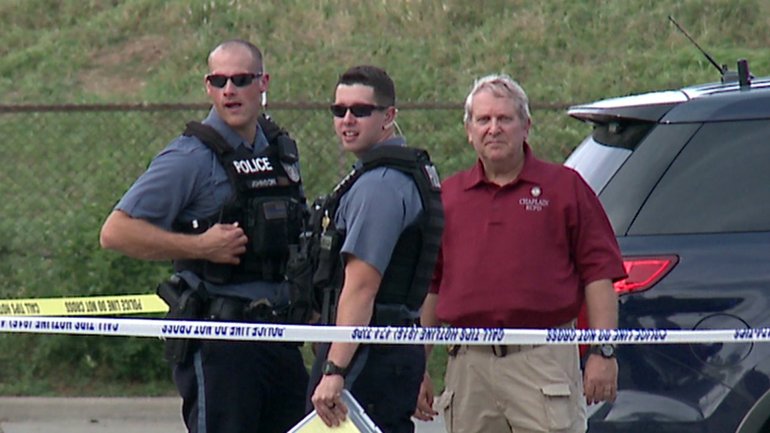 Police chaplains at KCPD are all volunteers and work at least 8 hours a month.
"We do it because we care, not because of the pay. It's our passion to see you successful," chaplain Stanley Archie said.
Chaplains do roll calls, work one-on-one with officers in need, and actively respond to crime scenes and hospitals.
"We're not part of the blue line. We get it.  But we're here to serve you," Hardy said.
These chaplains know the job of being a police officer can take its toll, especially if the officer has no way to vent or handle stress and trauma.
"What happens is you begin to lose the real desire to help. You're going through the motions. You become hardened. You just don't care, and that leads to not doing a good job," Hardy said.
Archie said his path to the chaplaincy is what keeps him going. As a teen, he got into trouble, and an arresting officer's compassion changed his views on police.  Now, he's giving back, hoping to change community perspectives.
"It means the world to me when someone else captures what I capture. To get out of the life that I was in. To begin to do some things very, very differently," said Archie, KCPD chaplain, senior pastor of Christian Fellowship Ministries and owner of Successful Edge, a consulting company specializing in behavior management.
But these chaplains know at times, this work puts their lives on the line.
This summer, when three KCPD officers were shot in the line of duty, chaplains were right there, ministering to overworked officers on the scene and supporting families at the hospital.
"We purposefully place ourselves in dangerous situations to serve the servant, serve the community," Hardy said.
And chaplains have zero protective gear.
With your help through "Working for Blue," that could change.
"Knowing I'm protected with a ballistic vest, that just helps me feel a little more at ease so I can focus on making sure the officers are doing OK and helping  however I can help on scene," Hardy said.
The unit also wants to grow and is currently recruiting to reach 18 chaplains.
And each of them, hope you'll value what they contribute and donate to help keep them safe.
"If they participate and they are helping us, I want them to know what you`re really doing is you`re serving the officers who serve you," said Dennis Dewey, KCPD chaplain and Hope Fellowship Church senior pastor.
FOX4 is partnering with the nonprofit SHIELD 616 to raise money to purchase protective gear for our local law enforcement agencies, including KCPD's chaplains.
You can go online and make your pledge NOW. Then join FOX4 for an all-day telethon Thursday from 6 a.m. to 7 p.m.
Every dollar counts and will make a difference.