This is an archived article and the information in the article may be outdated. Please look at the time stamp on the story to see when it was last updated.
CLINTON, Mo. -- It's been a heartbreaking year for the Clinton Police Department.
Two line-of-duty deaths in just seven months. Since then, the weeks have turned into months, but the loss of officers Gary Michael and Ryan Morton can still be felt across Clinton in the thin blue lines painted throughout town.
Their deaths put a spotlight on what needs to be done to keep our officers safe.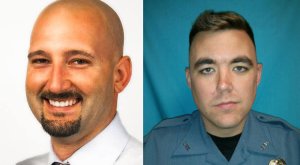 "So it was kind of a rough, rough spell, but we stuck together and dug deep, and here we are," Officer Nathan Bettencourt said.
Bettencourt and Officer Nickolas Kasper were with Morton the night of March 6 when they responded to a call and came under fire. The gunman killed Morton and injured Bettencourt when bullets tore through his arm.
"I don't have feeling in half of my hand, so I just have to relearn to access things on my vest," Bettencourt said.
He suffered never damage and other injuries. His wrist is now wrapped in bright blue bands honoring his partners. He returned to light duty with the Clinton Police Department in July.
"I didn't want to leave the night it happened, and I wanted to come back every day since," Bettencourt said.
While at work, the department's 24 officers wear heavy armor with plates that can stop a high-velocity rifle round.
"We actually have plates, not just the ballistic soft armor. We have the hard plates in as well," Kasper said.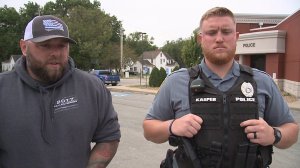 It's a protective layer Kasper said is vital to their safety.
"You put that on, and you feel like you can do anything, almost like your Superman cape," Kasper said.
The department assigned additional armor after Michael was shot and killed in the line of duty. But even today, no one in the department has ever owned a ballistic helmet.
"We're not going to be much good. We can't protect anyone else if we can't keep ourselves protected. You really cannot put a price tag on that," Bettencourt said.
At the Clinton Police Department, the impact of Michael and Morton's deaths can be seen on the police vehicles and in the hundreds of flags throughout downtown.
"I know they were looking out for us," Bettencourt said. "I know they are still here, and they are still part of the family, still part of the club. They are just, you know, in a different precinct, I guess."
And now, as FOX4 is "Working for Blue," we hope you'll help keep brave officers like Bettencourt and Kasper safe as they protect you.
"It's not always easy or fun, but I wouldn't want to do anything else," Bettencourt said.
If you would like to help, this week FOX4 is partnering with the nonprofit Shield 616. The group outfits officers with ballistic vests and helmets. Several hundred local agencies need them, and we're raising money to help them.
You can go online and make your pledge NOW. Then join FOX4 for an all-day telethon Thursday from 6 a.m. to 7 p.m.
Every dollar counts and will make a difference.