This is an archived article and the information in the article may be outdated. Please look at the time stamp on the story to see when it was last updated.
KANSAS CITY, Mo. -- The online donations continue to come in for FOX4's Working for Blue initiative, and many metro residents had a special reason for wanting to donate.
John Booth donated $1,200 worth of protective gear in honor of his brother-in-law, Ricky Taylor.
Taylor spent several decades working in law enforcement in Miami, Florida. He was shot and severely injured in 1998 when he was sent to a shooting around midnight on New Year's Eve.
"The guy was on the roof of a three-story apartment building. He shot hundreds of rounds. One went through the edge of Ricky's head," Booth said.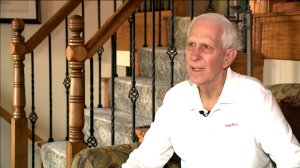 Taylor survived the shooting but his way of life dramatically changed.
"If Ricky had been wearing a helmet, he would not have been disabled," he said..
Booth decided to make a generous donation in honor of his brother-in-law to prevent similar tragedies from happening to other metro families.
Little did he know, the officer on the other end of the phone shared a similar story.
Clinton Police Officer Nathan Bettencourt was shot and injured on March 7, the same night that his friend and partner Officer Ryan Morton was killed.
"Thank you so much. It means the world to us. We know you guys are there, and we thank you," Bettencourt said after receiving the call.
Although Thursday's telethon is over and phone lines are closed, we're not done yet. You can still donate online here. Help protect those who protect us.