This is an archived article and the information in the article may be outdated. Please look at the time stamp on the story to see when it was last updated.
PLEASANT HILL, Mo. — Would you rent a drug dog to raid your kid's bedroom? It's an option now available to Kansas City-area parents, and it's one some people are choosing to find out if their children are using drugs.
Ray McCarty, founder of Metro K-9 Services, says his service is the only of its kind that he's aware of in the area, allowing users to rent a drug dog by the hour. He came up with the idea after hearing about the infrequency of sweeps at his child's school and children being hauled off to juvenile detention.
"That's getting kids in trouble that day and that's not what we are about. We're about being a deterrent," McCarty said.
One alternative school he works with is Shelterwood Academy in Independence.
"When the kids know that there is a drug dog on campus, it lets them know that we are on top of things and that we are taking care to know what's going on," said Chad Smith, Shelterwood Academy program director.
The school assists many students with substance abuse problems and parents who've run out of ways to try to get through to their children.
K-9s Phoenix and Coco, McCarty's other partner, spend a lot of time training for sweeps of teenager's bedrooms. McCarty has a license to obtain training aids with the scents of real drugs including, cocaine, meth, marijuana and heroin. But what the dogs are really after is the treat of their favorite toy.
"Run her through, she'll alert. Run her through a couple more times, she alerts on the same dresser, the same backpack, same corner of the closet where the carpet is loose, I can say there's your kids hiding spot right there," he said.
 "If I feel like my son is doing drugs, I'm going to do what I have to do to find out," said Shelly Parker, a metro mother of nine.
 "What about the trust in your kid after that? Would your kid trust you again?" asked Ted Overman, a father of four teens.
McCarty said most parents order their sweep when their kids aren't home. Some parents merely flush the drugs, and never say anything. And McCarty never calls the cops.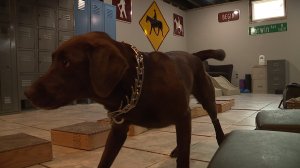 "It makes them feel better. We aren't going to say anything because its none of our business. We are just there to do a job. We do it, and we leave," he said. 
Whether his dogs are sweeping a home, job site, fraternity house or school, what they are really giving clients is information. Like at Shelterwood, he hopes that's the start of a conversation about someone possibly turning their life around.
"We're not trying to catch kids just being bad. We are really trying to help them to do the right thing," Smith said.
Metro K-9's services start at $200. The company is also training one of its dogs to start sniffing for weapons in schools and other places. That's a service as far as FOX4 could find only Kansas City Police, Missouri Highway Patrol and federal agencies like FBI and ATF now are able to provide.