This is an archived article and the information in the article may be outdated. Please look at the time stamp on the story to see when it was last updated.
KANSAS CITY, Mo. — A 4-year-old boy is recovering after accidentally shooting himself in Kansas City. The shooting happened just after noon Thursday at an apartment complex near Blue Ridge Cutoff & 61st Street. Police say the little boy got a hold of his dad's gun and shot himself.
FOX 4 has learned the child's father was not in the room when the little boy got his gun and fired it. Neighbors say at least one other small child was home when the incident happened.
"I heard a bunch of screaming and crying then I looked out my back porch and there were a bunch of cops here," said Phillip Boyd.
Phillip Boyd lives at the Trails at the Ridge apartment complex. Those chilling sounds came from the apartment next door to his.
"I went out there and started talking to the cops and figured out that a little 4-year-old boy got shot," said Boyd.
Police are still trying to piece together how the little boy got a hold of the gun. But investigators say the weapon was not secured.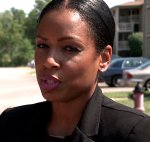 "You have got to protect your child. If you're going to have a firearm, which we don't have a problem with, have that firearm in the home and please protect your children. Please use a gun lock. Use a gun safe," said Kari Thompson, public information officer with the Kansas City Police Department.
Police also encourage you to be open with your kids about guns.
"Give them education on the reasons why you have the gun and what it's there for. By helping them with their curiosity, it possibly could help them to not touch it, to not try to look at it or anything like that," Thompson said.
Those are lessons the family in Thursday's incident are learning the hard way. Thankfully, the little boy was taken to the hospital in stable condition.
"Just hoping and praying he'll be okay. Strong little boy. So he'll probably make it through," said Boyd.
If you'd like to secure your weapons, nearly every local police department and sheriff's office has gun locks available for free.