This is an archived article and the information in the article may be outdated. Please look at the time stamp on the story to see when it was last updated.
RAYTOWN, Mo. -- All 18-year-old Marcus Cox has left is a necklace to remember his unborn daughter.
"I decided to name her something close to Angel so I could nickname her Angel, and now I have 'Daddy of an Angel' on my necklace," he said.
Cox said Angel died Saturday after a man, who police say was drunk, rear-ended the car the young mother was sitting in, who is herself only 16. The hit-and-run crash happened on Raytown Road and East Highway 350.
"Whenever it happened I just was freaking out. I was expecting her to be slumped over. It was a big relief that she was not slumped over and that she was screaming," Cox said.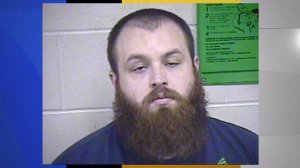 Raytown police said Jonathan Marquardt, 26, had nearly three-times the legal limit of alcohol in his blood when he crashed his pickup truck into the back of Cox's car.
"This guy was not responding to me at all. I was running to him I said `what the heck?! I hope you`ve got insurance, she is pregnant by the way.` And he didn`t say anything to me. He just looked at me. Got out of the car for a little bit and after I got off the phone with the cops he pulled out and drove off," Cox said.
Police arrested Marquardt a short while later. But the pain of the crash is still fresh with Cox and his fiance.
"It sucks for her because she carried the baby for seven months, and she is the one who has to really deal with the separation," Cox said.
Although their daughter is gone, Cox said he is praying for the man responsible for her death.
"I hope he gets help, I really do. I hope he goes through a program in jail and he gets over the alcohol," Cox said. "He`s young and by the time he gets out he will still have life, and I just hope that he doesn`t go straight back to alcohol. I`m not as upset with him as I was the day it happened. I just want him to get help.
Marquardt is facing DWI - Death to Another Person, DWI -Physical Injury To Another Person, and Leaving the Scene of an Accident. If convicted he faces over 25 years behind bars.