This is an archived article and the information in the article may be outdated. Please look at the time stamp on the story to see when it was last updated.
KANSAS CITY, Mo. — Therapists and rehabilitation workers gathered on Tuesday to hear stories of how rehabilitation changed the lives of people with traumatic injuries.  The luncheon event was held at Crown Center and a survivor of the Boston Marathon bombing was the keynote speaker.
The group also heard from James McGinnis, who collapsed during an Olathe East football game in September 2014.
James and his father Patrick McGinnis stopped to talk to FOX 4 about how the luncheon helps people understand all the hard work and patience required during rehabilitation.
"I think events like this really helps raise the awareness of what it takes to go through rehab," said Patrick McGinnis."
"You have no idea how long it takes and how hard they work just to do things you and I take for granted. Things like swallowing or speaking and even standing. It took probably close to 3 months before he could stand on his own. I think we were close to 9 months for him to be able to walk 30 yards," he said.
McGinnis said the tackle that cause a tear in the lining of his brain looked like any other.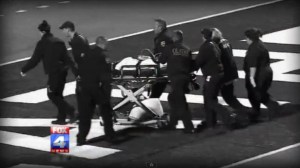 "If you had saw a clip of the play you wouldn't have thought anything of it."
But two plays later, James collapsed. He's spend five days in a coma.
After that, James spent 18 days in ICU, followed by 7 ½ months in rehabilitation in Lincoln and then continues rehab in Kansas City.
"You'll see him do the 'I love you' sign a lot and that's the very first thing he did when he woke up from his coma. He couldn't speak or even have his eyes open."
James, who will be 20-years-old this summer, still has many more years of rehab to go.
He was grateful for the stories he heard from others who also suffered traumatic injuries.
"It is truly a blessing and amazing because not only will all these people get to hear my story but then you'll have others just like you that will share their stories," McGinnis said.
Click here for past stories on James McGinnis:
James McGinnis meets heroes who helped save football player's life
Olathe East's James McGinnis surprised by classmates on Senior Night
Community raises thousands for injured football player, eagerly awaits his return home