This is an archived article and the information in the article may be outdated. Please look at the time stamp on the story to see when it was last updated.
CASS COUNTY, Mo. — The man long-believed to be a killer is now suspected of murder. On Thursday Cass County prosecutors formally charged Kylr Yust with two counts of first degree murder and two counts of abandoning a corpse related to the disappearances and killings of Kara Kopetsky in 2007 and Jessica Runions in 2016.
Runions disappeared after she left a party with him in September 2016. Kopetsky vanished more than 10 years ago after she was last seen walking out of Belton High School.
A decade separated the disappearances, but their remains were found near each other, just a few days apart in April 2017 when a mushroom hunter stumbled upon bones in rural Cass County. Yust has been in jail and charged with burning Runions' car in Jackson County, where he is still in custody.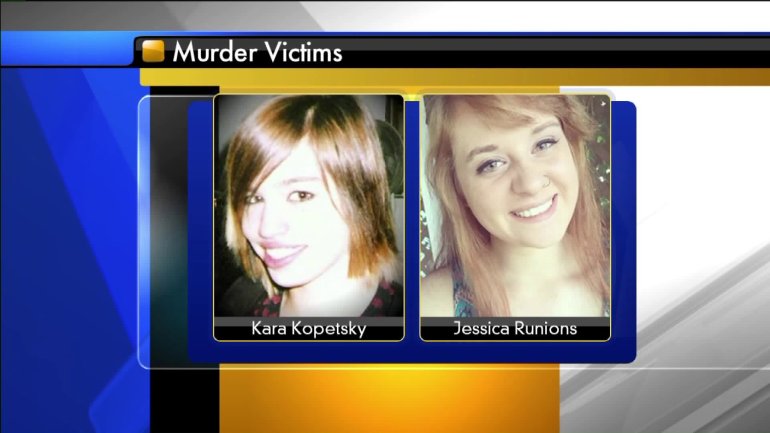 Court papers show that the prosecutor's case started back on April 28th of 2007 — days before Kopetsky disappeared. She told police that Yust kidnapped her after they broke up.
A judge granted her request for a restraining order on April 30th, four days before it's believed that she was killed. Kopetsky was just 17 years old when she disappeared, and was last seen leaving Belton High School in May of 2007.
Court records show that over the years investigators tried to crack Yust multiple times.
Between April of 2010 and June of 2012, multiple people who knew him called police saying Yust admitted to choking Kopetsky to death.
(Editor's note: see bottom of page for a summary of Yust's admissions to the killings)
Yust was sentenced to federal prison for drug distribution in November of 2013, and put on supervised release on September 2, 2016. That court order reads:
"You shall serve one weekend confined at a facility designated by the Bureau of Prisons. You shall report to the designated facility, as instructed by the probation officer, on Friday at 7:00 p.m. and will be released the following Sunday at 7:00 p.m. You are to pay subsistence as directed."
On September 9, 2016, Runions was reported missing a day after leaving a party with Yust where he was behaving possessive of Runions and acting aggressively towards others according to witnesses. They said Yust was drinking heavily at the party and arguing with Runions.
Police found her burned-out car on September 10. A man who was with Yust that same day told police that he drove Yust to his home in Edwards, Mo., and he was recovering from burns he received setting Runions' SUV on fire. The SUV was found in the area of 95th Street and Blue River Road. That man told police that Yust said he strangled Runions and "she was gone." Yust added that he had dragged her body into the woods.
After he left Yust, that man contacted police and told them everything Yust had said and where he was. Yust was arrested on September 11, investigators noted he had burns to his face, hands and arms, in addition to scratches on his face.
Months later on April 4th, a mushroom hunter contacted police to report that he found the remains of two people in heavy woods near Y Highway and 233rd Street. Investigators used DNA and dental records to identify the remains of Runions and Kopetsky.
Yust is awaiting trial on October 23 in Jackson County for a charge of knowingly burning or exploding related to the torching of Runions' SUV. As court proceedings take place for the murder charges, Yust will be held on a $1 million bond.
Summary of the admissions that Yust made to others about the killings: 
* 4/26/10: A bandmate who was also a roommate of Yust's in 2007 told Belton investigators that Yust said something bad had happened to Kara and he snapped. Yust said he was angry with Kopetsky because she wouldn't love him, and he didn't want her to love someone else.
* 1/22/11: Someone contacted Belton police and said that Yust told her he choked Kara to death, picked up her body and hid it in the woods.
*2/4/11: The same person reconnects with police and tells a more complete story. She said that Yust described choking Kara, watching  her take her last breath. He said he stared at her body before moving it to the woods.
* 8/19/11: A previous girlfriend of Yust tells Kansas City investigators that he choked her and told her that he had killed his girlfriends before and would not hesitate to kill her too.
* 6/5/12: Someone told police that in early 2012 Yust told them that he had choked Kara out, looked at her body before taking her to the woods. Yust further described they were having relationship problems and had a physical struggle before he killed her.
* 9/2015: An investigator confronts Yust at a correctional facility in Oklahoma about lying regarding Kopetsky's disappearance. Yust refuses to talk. He had been serving a federal sentence for distributing a controlled substance, he was sentenced to 45 months in November of 2013, and put on supervised release on September 2, 2016.
* 3/28/16: Cell inmate of Yust in Oklahoma says that Yust asked him for an alibi after the police interview in September of 2015. The inmate said Yust admitted that he had killed Kopetsky by choking her and then disposed of her body.
* 9/10/2016: Man contacts Belton police and said he was with Yust admitted that he strangled and killed Runions. Yust also told that witness he had dragged her body into and undisclosed wooded area, but couldn't drag her very far.
*10/5/2016: Belton police interview a former roommate, who said about 3-and-a-half years earlier Yust told him that he killed Kopetsky and no one would ever find the body unless he told them where it was.