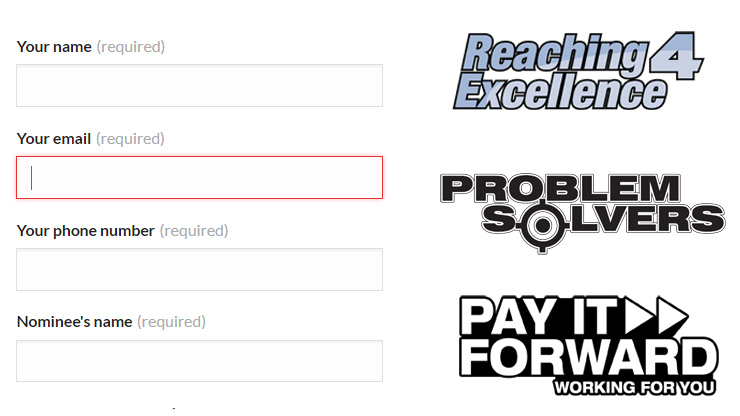 Reaching 4 Excellence is a weekly feature of FOX 4 News that recognizes young people in the Kansas City region for outstanding accomplishments in academics, the arts, leadership, community service and volunteerism, career exploration, overcoming obstacles, heroism, etc.
While Reaching 4 Excellence does not, as a general rule, spotlight athletes, exceptions may be made for athletes who excel in ways that include any of the categories listed above.
Reaching 4 Excellence recognizes individuals or small groups of 20 or fewer who are high school age or younger.
If you have a problem that you believe is widespread, is indicative of corruption or is criminal, fill out the form above and it will be reviewed by our Fox 4 Problem Solvers team. We receive many submissions and unfortunately, cannot contact everyone about the status of their submission.
FOX 4 is Working for You with an uplifting series of stories. It's called "Pay It Forward," and we're giving you the chance to help change someone's life.
Each week, FOX 4's Kathy Quinn shows us what happens when someone you don't expect steps up at just the right time to make someone else's life a little easier.
Kathy will venture out in Kansas City to surprise a viewer with $300.  But, you can't give it to a family member. And, our cameras must be able to come along.
You'll be amazed at the way you'll feel when you help us "Pay It Forward."  And, we all get to share in the excitement as FOX 4 shows you these moving stories. So, pay it forward and email us below to tell us who you think deserves the money. Then wait to see who FOX 4 surprises first!
NOTE: While every submission is received, we will only respond to those who have been chosen. Thank you for your understanding.
News Tips: CALL 816-932-9201 or use the email contact form below: