This is an archived article and the information in the article may be outdated. Please look at the time stamp on the story to see when it was last updated.
We're not in the thick of hot stove season, yet. In fact, it's just been set to preheat. But as any baseball fan knows, it doesn't take very long before it's blazing.
Baseball fans have had their eyes on this class for a while. Even without the shine it seemed to once have, this free agent crop is arguably the best ever.
Bryce Harper and Manny Machado are expected to both get deals eclipsing $300 million. Craig Kimbrel could set the record for largest contract by a relief pitcher. Josh Donaldson is an appealing name for a team looking to avoid long-term acquisitions. Starting pitchers like Dallas Keuchel and Patrick Corbin could bolster any rotation.
None of them will be Royals.
If anything, the hot stove looks to be rather tepid for the home team. Most around baseball believe they'll take a similar approach to last year: sign relatively affordable players to one-year deals and look to flip them at the deadline to a team willing to pay a premium in terms of talent.
But why not start the sell now?
In the case of much of the roster, it's simply that the players that could be moved won't fetch a return that's worth making the trade. There's at least one notable exception: Whit Merrifield.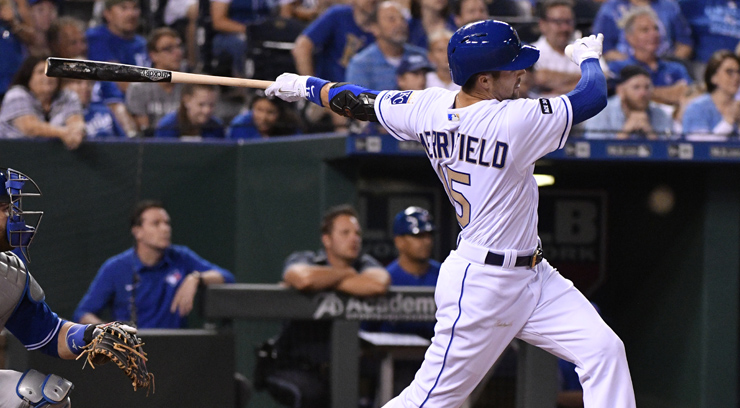 The Royals second baseman improved upon an already successful 2017 by leading the American League in hits and stolen bases. His 5.5 WAR (Wins Above Replacement) was good enough to finish in the top 25 of all the major leagues, ahead of such notable players as Paul Goldschmidt, Jose Altuve and Matt Carpenter.
It seems if there's a case for a player to move, it's Whit. There's also strong arguments to make to hang on to him. I've got four reasons the Royals should consider each.
Why the Royals should trade Whit Merrifield
1. He can refill the prospect pool.
As the Royals figure to be a non-factor again in 2019, it might be time to consider the foundation of those Royals from 2014-15. A bevy of players that came up from the farm all blossomed at once. The Royals organization isn't as deep now as it was a decade ago, but a Merrifield trade could go a long way.
In 2016, the Chicago White Sox traded Adam Eaton, a player coming off a lesser season but on a team-friendly contract, to the Washington Nationals for three prospects, including two in the top 40.
Teams have become increasingly reluctant to move prospects, but for Merrifield — who can't become a free agent until 2023 — the Royals should at least expect a return of two top 100 players plus one or two young flyers.
Partnered with Nick Pratto, Brady Singer, Jackson Kowar and the 2nd overall pick in 2019 (plus a likely top 5 pick in 2020), the farm suddenly becomes a strength again.
2. He's not getting any younger.
Despite only being in the majors for three seasons, Merrifield is quickly approaching the wrong end of the aging curve. He'll be 30 years old on Opening Day of 2019.
I don't expect his production to immediately fall off a cliff, but the decline years are approaching suddenly, and he may not be a useful player at all by the next time the Royals are competitive.
3. It's a chance to maximize the return.
Truth be told, if Merrifield does come crashing down to Earth in 2019, it probably does little to affect their win-loss record this upcoming season. It would greatly affect the return on investment.
Teams are more often burned not by trading players too soon, but by holding on to others too late. I'm not saying that Merrifield can't repeat his 2018 season, but his value won't increase if it does.
4. He could diversify some contenders.
Merrifield obviously has value on any team, but he certainly doesn't fit the model of the 2018 ball player. It's an era that's focused on launch angle above all else.  Merrifield is more the throwback line-drive hitter.
In an era where players are selling out for home runs and teams are accepting strikeouts in exchange, there may be some organizations looking for that table setter who can turn a solo shot into a two-run homer (and step into a few on his own.)
Why the Royals shouldn't trade Whit Merrifield
1. The Royals don't seem interested in a long rebuild.
The Mike Moustakas trade in July should have indicated this. They could have pursued a deal for minor league players with higher ceilings, but they instead took a deal for Brett Phillips and Jorge Lopez, two higher floor players that have already appeared for Kansas City.
If the team believes it can compete in the next two or three years, trading Merrifield is a setback to that.
2. Sellers are looking elsewhere.
It's hard to imagine a deeper class than this one, and it starts with Harper and Machado, Hall of Fame quality players coming to free agency while still in their primes.
Even beyond them, the top of the class is deep, and that's not even talking about the trade market, where teams like the Mariners and Diamondbacks have signaled a willingness to rebuild.
Imagine Goldschmidt, Zack Greinke, Jean Segura, and James Paxton on the market along with the free agent class. There's just no shortage of good players to be found.
3. There's a lot of second basemen to pick from.
Not only is the 2018 class deep all around, but particularly at Merrifield's primary position. What it lacks in upper end talent, it makes up for in quality.
There's arguments to be made that Ian Kinsler, Daniel Murphy, D.J. Lemahieu, Jed Lowrie and Asdrubal Cabrera could all be better fits for a given team than Merrifield.
There might not at least be enough of a difference for teams to want to give up the prospect cost for Merrifield when the other players simply cost money.
4. The return could be disappointing.
I've already outlined that Merrifield is a player with a lot of cost-controlled years, but I've also mentioned he's going to be 30 when Opening Day rolls around.  Other teams know this, too.
Although he's been productive in his brief time in the major leagues, teams may be skeptical to give up a fortune for a player with a small track record and already nearing the wrong side of his career.
I believe the Royals will listen to offers on Merrifield, but he'll ultimately still be on the roster at the start of 2019. It would take an unbelievable offer to move off him.
While there's obvious value in maximizing assets for Merrifield, his team control is still long enough that a move doesn't have to be made immediately.