This is an archived article and the information in the article may be outdated. Please look at the time stamp on the story to see when it was last updated.
PRAIRIE VILLAGE, Kan. — The secret is out.
The entire football world is talking about the unbeaten Kansas City Chiefs and their dynamic quarterback Patrick Mahomes, who led a furious come-from-behind win against Denver on Monday night.
Mahomes, 23, is cool, calm and collecting wins. The second-year pro gave us another peek into his palette of performance, leading an astounding fourth quarter comeback on the road against the Broncos.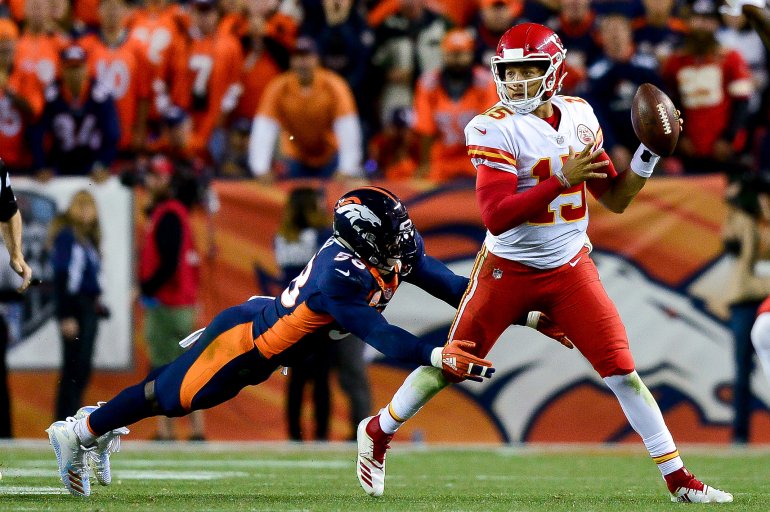 In the early portion of the fourth quarter, Mahomes and his fellow Chiefs (4-0) appeared headed for a loss since they trailed by 23-13. That's when the second year Chiefs QB went on a tear, leading his team to a 27-23 victory that included a crazy left-handed pass during the game-winning drive.
The comeback quarter included a 2-yard TD pass to tight end Travis Kelce and a physical touchdown trot by running back Kareem Hunt. The left-handed flip pass, a rare feat by a right-hander, was caught by wide receiver Tyreek Hill, and kept the drive alive.
Few people living in the Kansas City metro understand the quarterback position the way Justin Hoover does. The 38-year-old was recently named head coach at Shawnee Mission East.
However, he's also the longtime operator of Spin It Football Academy, where the former Pittsburg State quarterback works with as many as 90 young QBs each year, some of whom are already headed for college football programs.
"The thing I see out of Mahomes so far is how calm and cool," Hoover told FOX4.
"We're getting to see a player meant to play this position," he said. "I think we're getting all the cool elements of confidence and leadership rolled into one simply based off this being his sweet spot."
Hoover was one of many to compare Mahomes' subtle flip pass to a similar play NFL Hall of Famer Brett Favre was known for using. Hoover said the lefty lob shows a strong ability on Mahomes' behalf to turn setbacks into comebacks.
"His ability to make plays off-script is the thing I see as most valuable, and what we're seeing on a nightly basis we haven't seen before," Hoover said Tuesday.
Chiefs fans are also getting excited after seeing Mahomes' southpaw strike at Invesco Field. That includes several Chiefs fans FOX4 spoke with on Tuesday at the Prairie Village location of Johnny's Tavern.
"There's no 'play dead' in him until he's on the ground," Lee Blakesley said.
"That took lots of agility and quickness on his part to enact that. I liked his post-game interview when he attributed Alex Smith as he was a mentor to Patrick at that time," Chiefs fan E.J. Cook said.
"You're playing in the big leagues. Hopefully, that character sticks through, and, as a leader he grows and matures with our team. We have a nice new dynasty to embrace as a fan base," said Curtis Calkins, another Chiefs diehard.
Mahomes and the Chiefs aim to stretch the streak on Sunday. They'll face Jacksonville (3-1), having won eight regular season games in a row, dating back to last season.
A victory will run Kansas City's perfect record to (5-0) one week before visiting Tom Brady and the Patriots in New England on Oct. 14th.