This is an archived article and the information in the article may be outdated. Please look at the time stamp on the story to see when it was last updated.
CHESTERFIELD, Mo. – There's one gift you can give this holiday season that the Chiefs fan in your family doesn't have: a special Patrick Mahomes football that isn't even in stores yet.
Nikco Sports, based in Chesterfield, Missouri, is producing a special football commemorating Mahomes' amazing season. Nichole Forsythe with Nikco Sports said the company is only making 2,018 of the Mahomes footballs.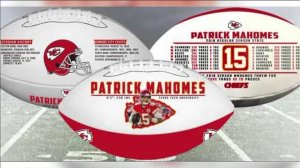 "It's going to be commemorating his rush records, his TD records, and it's going to have a breakdown of every game this season and how many yards he had, how many TDs he had," Forsythe said. "It's also gonna discuss the NFL records he's broken."
Each football sells for $99 and comes with an individually numbered certificate of authenticity.
If you hope to order one of the footballs, you need to act quickly.
"It's a very limited supply," Forsythe said.
The company is currently taking pre-orders, but there are only several hundred footballs left.
You won't have the football in time to put it under the tree because they aren't even being made until after the regular season ends. Instead, Nikco Sports has a gift flyer for your Chiefs fan to open on Christmas morning.
A portion of the sale of each football benefits Team Luke Hope for Minds. The organization helps children with traumatic brain injuries.
You can pre-order your football online or by calling 800-345-2868.