This is an archived article and the information in the article may be outdated. Please look at the time stamp on the story to see when it was last updated.
KANSAS CITY, Mo. – It was a scene of both sports jubilation and crowd control, gone bad: The court-storming that happened after Monday night's Kansas State-Kansas basketball game is getting plenty of attention with campus police in Manhattan now involved.
The aftermath of Monday night's storming of the court in Manhattan, Kansas rages on. K-State fans came rushing out of their seats and onto the coliseum floor after their big win over KU.
The national media has cast an eye on that scene from Bramlage Coliseum. As thousands of fans emptied out of the bleachers and onto the court, KU players were caught up in the rush. KSU Police tweeted a photo as they searched for a male student, who appeared to make physical contact with Kansas forward Jamari Traylor.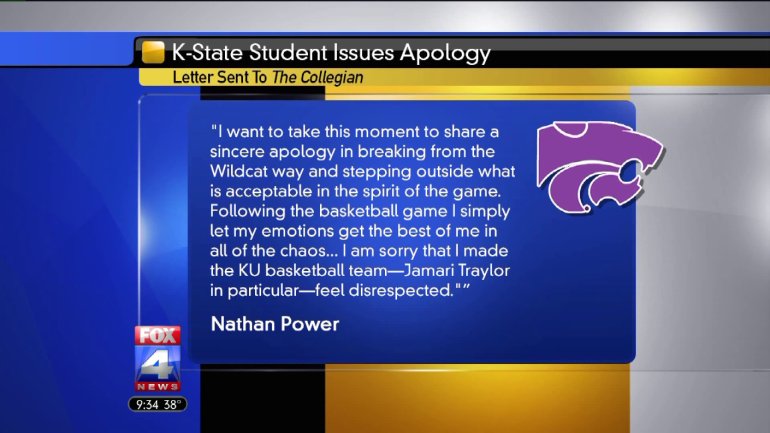 On Tuesday night, a student who identified himself as the person who bumped Traylor issued an apology through The Collegian.
For the second straight season, Wildcat fans rushed their home court after beating KU. Unlike 2014, this one got physical, to the point that K-State Coach Bruce Weber stood between KU's Bill Self and the mob.
"I wasn't nervous for me," Self told reporters. "There were several students who hit our players. Not saying with a fist, but you storm the court. You run in, and you bump everybody."
"We've had some pretty good teams through the years, and I've had it where they've rushed the court and bopped and hit and stuff and it's no fun," Weber said.
The buzz has spread to Kansas City and Johnny's Tavern in the Power and Light District, where KU graduate Andrew Fray says this rivalry has perhaps become too intense.
"(It was) typical of the taunting. Typical of the hateful signs we saw during the game," Fray said. "I believe one of the signs actually had the word 'hate' in it. Some people have compunction, and some people don't."
Kansas State Graduate Molly Pruess says it's a shame the unruliness overshadows a Wildcat win.
"It's not the type of national coverage we would like," Pruess said. "At the same time, it's a huge win for us. We're a passionate fan base. Whatever was done, I would hope it wouldn't be intentional."
Both KU and K-State fans seem to agree with Kansas Coach Bill Self, telling me they didn't see enough security on the court at Bramlage Coliseum.
One fan told FOX 4, "win or lose by your team, priority number one is to keep everyone safe."
The Big 12 Conference, which is home to Kansas and K-State, doesn't penalize member schools when fans rush the court. That's in contrast to the Southeastern Conference, which fines schools $5,000 when fans celebrate on the hardwood.
Click here for Sean's Twitter feed.
Click here for Sean's FOX 4 Facebook page.