This is an archived article and the information in the article may be outdated. Please look at the time stamp on the story to see when it was last updated.
DENVER — Less than a year after winning the Super Bowl, Gary Kubiak is leaving his position as Denver Broncos head coach.
In a press conference on Monday, an emotional Kubiak said that he was retiring from coaching because the demands of the job were becoming too much for him.
"Coaching is a very demanding business," he said. "Tough business. And I've always prided myself. You know, I've been a head coach for 10 years. And each of us as coaches… we all have a routine. We all have a way we go about doing things, and I've had my routine for a long time. And I've always taken a lot of pride that I could coach a football team, be there for the players, be there for the coaches, be there for the organization, do a game plan, call some plays on Sunday. I've always taken a lot of pride in the fact that I could do all of those things.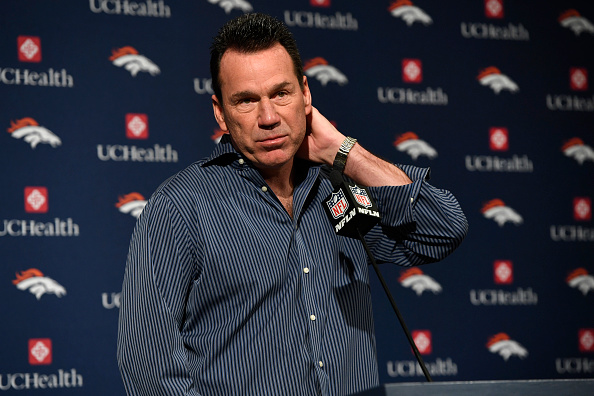 "But this year I haven't been able to do that. It's been tough. And for the first time I've had to tell myself, 'Hey, you can't do that anymore.'"
Kubiak has had more than one health scare in his career. He missed Denver's game on October 13 against the San Diego Chargers because of a complex migraine condition. When he was head coach of the Houston Texans, Kubiak suffered a transient ischemic attack — commonly known as a mini-stroke — when he collapsed during a game in 2013.
Kubiak said he didn't immediately start thinking of retirement after his medical emergency in October.
"That was obviously an episode that took place, and I've had a couple in the last four years, but it wasn't like, 'OK, this is something that I can't handle,'" he said. "I wouldn't say that. It was a struggle for me throughout the course of the year just keeping up with the things that I normally do and the way I want to do them. … It was not one incident, but I am listening to the last few years."
Broncos general manager John Elway said Kubiak approached him about a week ago to talk about stepping down. Elway said that Kubiak, a Broncos teammate in their playing days, asked him to have a conversation as his friend instead of as his boss.
Elway said he has mixed emotions about Kubiak leaving and acknowledged he checked with Kubiak Monday morning to see if he would change his mind and come back.
But as a friend, Elway said he understood Kubiak's decision.
"In the long run, it's the right thing for Gary, and I think that's the most important thing," Elway said.
Kubiak was 24-11 in his two seasons as Denver's coach. Last season, Kubiak led Denver to a 24-10 win in Super Bowl 50 in February against the Carolina Panthers.
Following the win, however, the Broncos took a step back. Quarterback Peyton Manning retired, and his backup, Brock Osweiler, left for the Houston Texans. That left the Broncos with Trevor Siemian, a seventh-round draft pick in 2015, to start their title defense.
The Broncos finished this season 9-7 and didn't reach the playoffs.
In his 10th season as an NFL head coach, Kubiak was 87-77. He spent 22 years with the Broncos, including nine as a quarterback from 1983-91 and 11 as offensive coordinator from 1995-2005. He also was an assistant coach when Denver won back-to-back Super Bowls from 1997-98.
Kubiak said he isn't sure what's next for him. But with the health news swirling around him, he had a message to convey.
"I'm doing great," he said. "I'm OK."