This is an archived article and the information in the article may be outdated. Please look at the time stamp on the story to see when it was last updated.
KANSAS CITY, Mo. — Before the Royals begin postseason play on Thursday, the team is hosting a big pep rally at The K on Tuesday.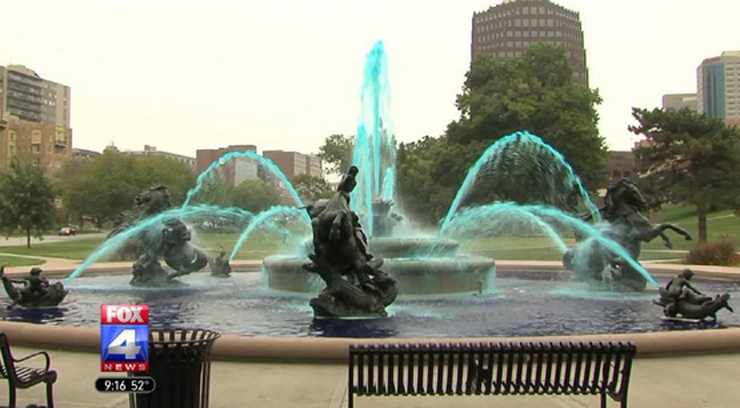 In addition, Kansas City is about to turn blue for the second October in a row.
On Monday, city workers dyed the water in the J.C. Nichols Fountain on the Plaza blue along with four other fountains around town.
Also, some of the lights along the Plaza, Union Station, Bartle Hall and the Bond Bridge will turn blue as this city roots for the Royals to get to the World Series again.
Some fans waited outside Kaufman Stadium Sunday night to greet the players as they returned from Minnesota.
Over the weekend, the Royals swept the Twins to reclaim home field advantage throughout the entirety of the postseason.
The team is on a hot streak right now and have won their last five games in a row. The Royals also ended the season with 95 wins – the most since 1980 – and with the best record in the American League, they are the favorites this postseason.
The boys in blue will play on Thursday in Kansas City against the winner of the Wild Card game – which pits the Houston Astros against the New York Yankees.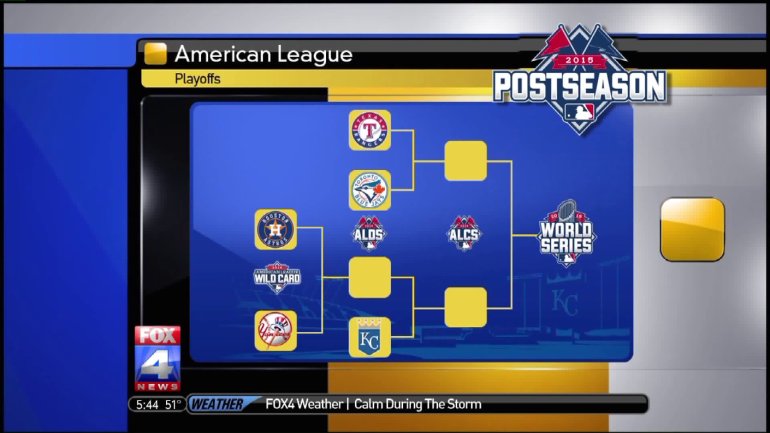 Click here for a list of start times for the first 3 games of ALDS
As far as the Royals are concerned, they don't care who they face in the first round.
"It doesn't matter," Royals second baseman Christian Colon said. "I believe we are the better team, so we'll just, basically you have to go out there and play, so we'll see. We'll see what happens Tuesday."
Fans can head to The K Tuesday morning to take part in a big Take the Crown Postseason rally.
The parking lot opens at 10 a.m., gates to The K open at 11:15 a.m., and at 11:45 a.m., fans can hear Ned Yost and Dayton Moore talk on the big Crown Scoreboard. The rally begins at 12:15 p.m., with player interviews and then the guys will take batting practice.
"It's going to be electric," Colon adds. "This place is waiting for us. I think being up 10 games in September, you know, everyone's just been waiting for this moment so, it's here now and I know it's just going to be electric."
Toby Cook with the Royals says they're expecting more than 40,000 fans each night of post season play.
FOX 4 will be live streaming the event starting 11:45