This is an archived article and the information in the article may be outdated. Please look at the time stamp on the story to see when it was last updated.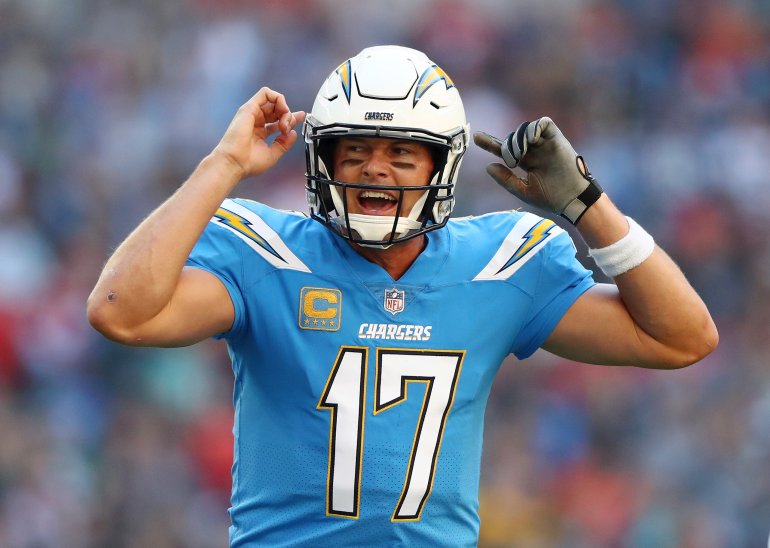 KANSAS CITY, Mo. — As Halloween is quickly approaching, the Chiefs offense and its fantasy output has been scary good. But for much of the rest of the AFC West, the season has simply been a horror show.
There's no concerns about any of your Chiefs fantasy players keeping pace, but which division foes have guys who can be brought back to life like Frankenstein?
We're dividing these players into three categories:
Trick: The guys who just haven't played like you expected. Although I wouldn't recommend cutting bait on them just yet, getting them into your lineup could be a bit tricky.
Treat: Like the house in your neighborhood giving out full size candy bars, these are the guys who have really come through for you and will keep doing so.
Smell my feet: This seems self-explanatory. The guys whose houses are probably going to get egged this Halloween by irate owners.
Hopefully this fantasy advice can help you scare up a league title in 2018.
TRICK
QB Case Keenum, Denver:
While Keenum was expected to backslide some going from a potent Vikings offense to a middling Broncos squad, the hit's been harder than expected.
In fact, he's looking more and more like a one-year wonder. Through seven games, Keenum's posted an 8 to 9 TD to INT ratio and has thrown for at least one pick in every game this season.
There's still reason for optimism, though. While not amazing, his 5 to 3 TD to INT ratio in the last three weeks looks much better. His numbers were somewhat curtailed by a blowout win against the Cardinals.
I'm not saying you want to start him, but Keenum's worth playing on bye weeks and can be considered for streaming options.
RB Royce Freeman, Denver:
The starting job with the Broncos looked to be Freeman's to start the season, but the 3rd round draft pick has been outplayed and out-carried so far by undrafted rookie Phillip Lindsay. To make matters worse, Lindsay is also the superior pass catcher.
If there's a silver lining, it's that Freeman is still the preferred goal line back (4 TDs compared to Lindsay's 2), and he's posting a respectable 4.4 yards per carry.  Like Keenum, his value right now is as a flex play in deeper leagues or a bye week flier.
WR Keenan Allen, Los Angeles:
It hardly seems fair to call a receiver in the top 20 in yards a disappointment, but for someone as reliable as Allen, it is. Although the yards have been there, he's only found the end zone once this season, all the way back in Week 1.
He's still been valuable in PPR leagues, snagging at least 5 receptions in 5 of 7 games, but the player you might have hoped would be your WR1 looks more like an unspectacular WR2.
TREAT
QB Philip Rivers, Los Angeles:
While he's always been a reliable fantasy QB for owners looking to wait until the late rounds to pick one up, he's looked more like the one-time elite starter this season.
Rivers currently ranks 3rd among fantasy QBs in points and has thrown for at least 2 TDs in every game this season. His 17 to 3 TD to INT ratio also means you don't have to worry so much about bust potential with Rivers.
The Chargers are on a bye this week, but he's an every-week starter after that.
RB Melvin Gordon and RB Austin Ekeler, Los Angeles:
You're going to find a lot of Chargers in the "treat" category, and that's simply because they're the next best team in the AFC West.
Although Gordon is still the lead dog in the backfield (and playing like one as well), Ekeler's been a pleasant surprise. Both players are among the top 15 PPR running backs on the season. Gordon will still get the looks near the end zone, but Ekeler is the better receiver.
The bye comes at the right time for Gordon who's nursing an injury. He's a no-brainer starter, while Ekeler is a high-end RB2 or worthy flex play.
WR Emmanuel Sanders, Denver:
Another steady fantasy performer for years, Sanders is on the upswing after consecutive 100-yard receiving games with a touchdown.
Although Keenum hasn't clicked with the rest of the Broncos offense, there seems to be no problems with Sanders, who rates among the top 10 in yards in the league. Not only that, but he's put up 5 receptions in all but one game this season.
The high ceiling, high floor potential is as much as you can ask for out of any receiver.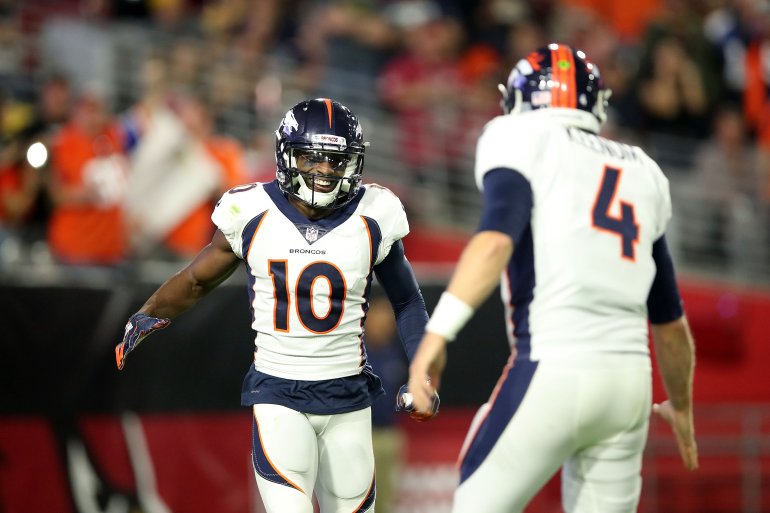 SMELL MY FEET
QB Derek Carr, Oakland:
Any time trade rumors swirl around your quarterback, it's not a good sign.
Most fantasy players tempered their expectations for Carr this year with the return of coach Jon Gruden, but it's been a nightmare year for the quarterback.  Like Keenum, he's thrown for more interceptions than touchdowns on the season. Not only that, Carr is now without who had been his most reliable wide receiver with Amari Cooper traded to the Cowboys.
There's no hope in holding out for things to get better this season for Carr. Whether it's another backup QB or a depth move for RB or WR, that roster spot can be better used elsewhere.
WR Demaryius Thomas, Denver:
It's hard to imagine this season going much worse than it has for the Broncos standout.
Although Thomas saw his season receiving totals dip below 1000 yards for the first time in six seasons in 2017, he's on a much worse pace this season. His 372 yards on the season are good for just 40th among all pass-catchers in the NFL. Five tight ends and two running backs have more receiving yards on the season.
At this point, the player you might once have had pegged for a WR1 week in and week out could arguably be benched in tough match-ups.
TE Antonio Gates, Los Angeles:
It may not seem fair to put a 38-year-old who only signed weeks before the season in the dungeon, but most fantasy experts (including myself) had Gates pegged for a solid if not spectacular season.
The longtime tight end was in line for a big year with Hunter Henry suffering a season-ending preseason injury. He's obviously had more than a decade of rapport with Rivers as his QB, and Gates posted the highest scoring weeks among tight ends in 2017 when Henry was injured.
Simply put, it hasn't materialized this season. Gates only has 1 TD through 7 games this season. He's been limited to three or fewer catches in every game this year and hasn't cracked 20 yards receiving since September. Even for a tight end, that's ghastly.