This is an archived article and the information in the article may be outdated. Please look at the time stamp on the story to see when it was last updated.
KANSAS CITY, Mo. -- While many in Kansas City and on social media knew Edinson Volquez' father had died on Tuesday in the Dominican Republic, the Game 1 starting pitcher was unaware his father had passed, at the request of his wife.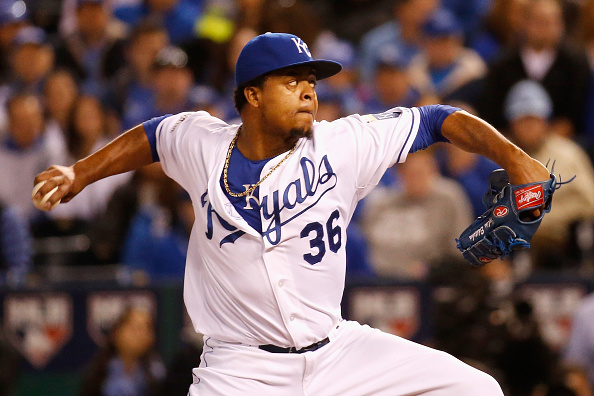 Daniel Volquez reportedly died from heart disease.
Ned Yost said the Volquez family asked that Volquez not be told of his father's passing prior to Game 1. He told reporters he offered to substitute Chris Young as Game 1 starting pitcher, but the family declined that offer. They wanted Volquez to have his moment, his chance.
"I talked to Chris Young, if Eddie finds out you know how tough that can be.  Chris just went through it, Moose with his Mom.  And that can be incredibly tough, especially when you are supposed to go out and pitch.  It'd almost be impossible to do that in game one of the World Series, I told Chris just to be ready in case something happened, and he would have to pick up the slack," said Yost.
After the game, it took longer than usual to open the locker room to reporters. The team needed to be told about Volquez' father.
"I didn't find out until the 14th. I was standing next to Ned and he told me what was going on.  I don't think he knew.  A lot of the guys didn't know until the locker room celebration and we all talked about it.  You know it's tough.  We're all his family.  We're all there around him to support him and hopefully everything will be ok," said Alex Gordon.
"It's hard, it's really hard. I just really can't describe. I just feel sorry for him and feel his pain," said Yost.
"We all just found out about two minutes ago. Your heart goes out to Volquez and the whole entire family. especially During a time like this. It's so tough, but the way he went out there and battled for us, you always hate to hear news like that, but it's just another angel above us, watching us and behind us through this run all the way," said Hosmer.
It has been a year of grieving for the Royals. Chris Young lost his father on Sept. 26. Third baseman Mike Moustakas, who lost his mother to cancer knows the turmoil, the sadness.
"When someone loses a family member that takes priority over everything," Moustakas said.
Edinson Volquez left with his family today to return to the Dominican Republic. He will rejoin the #Royals when the WS moves to New York.

— Ken Rosenthal (@Ken_Rosenthal) October 28, 2015